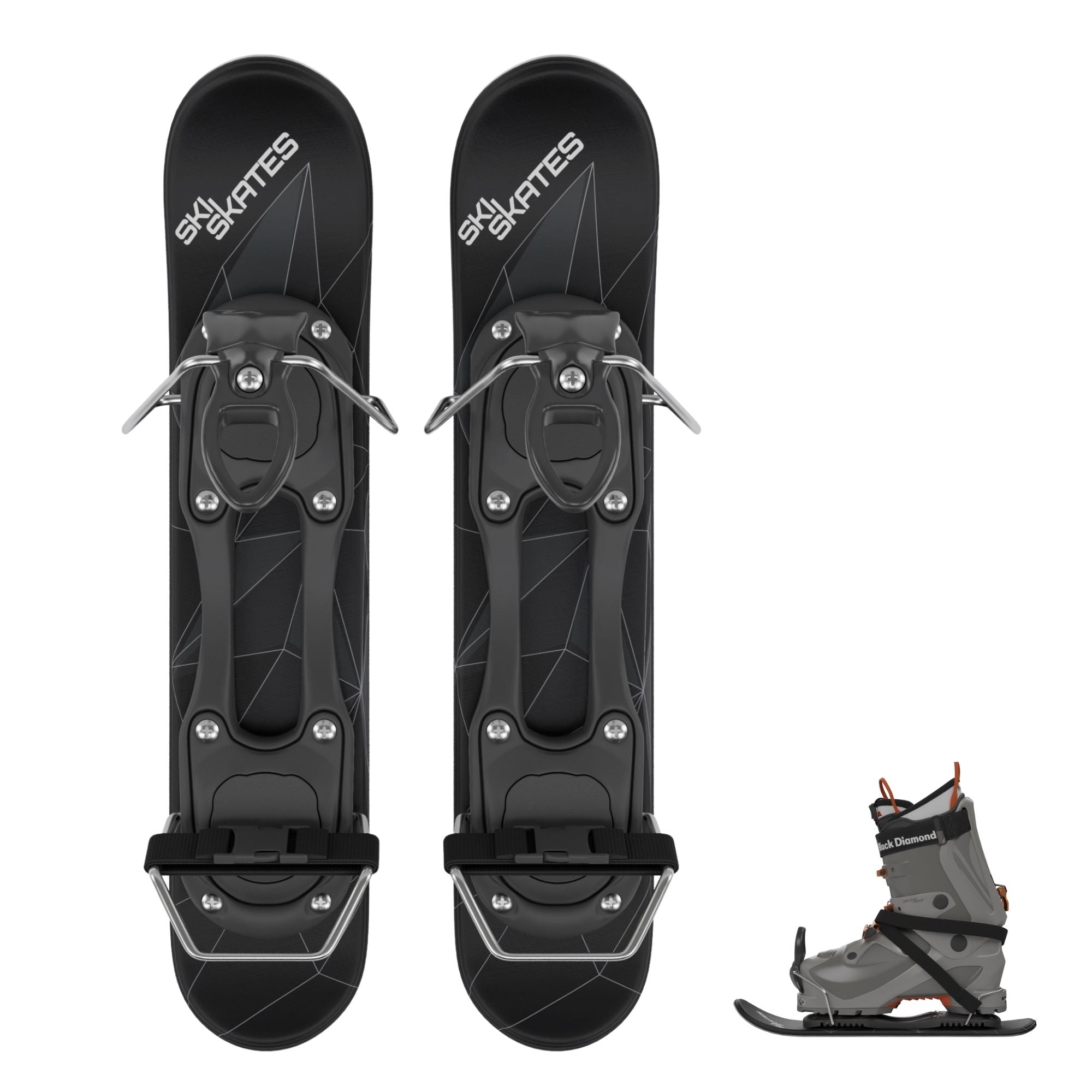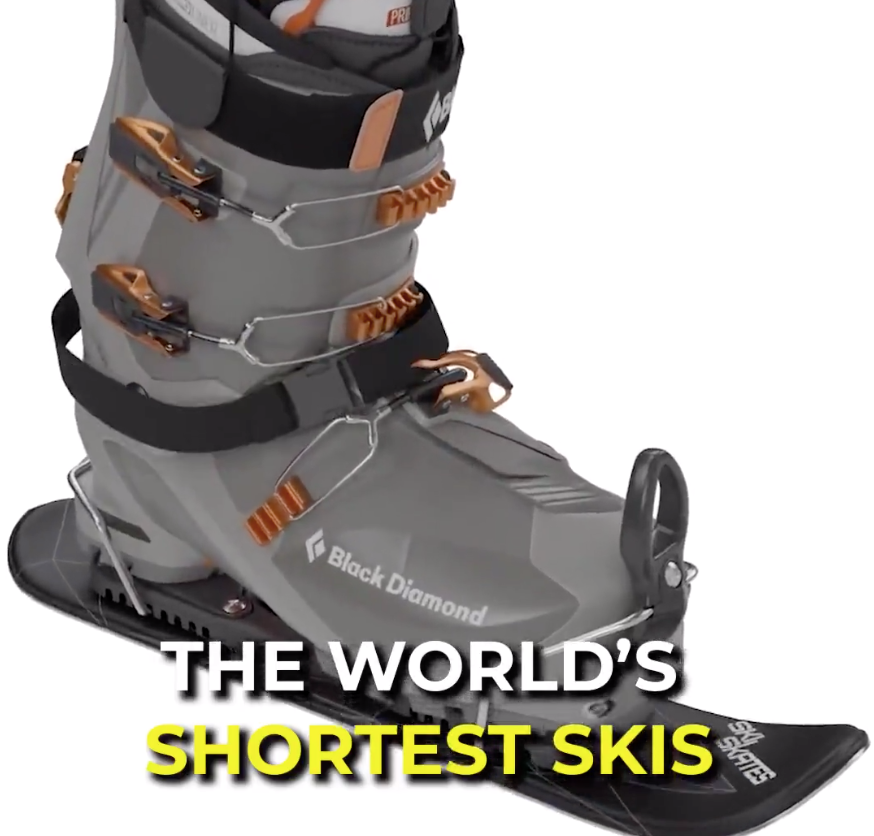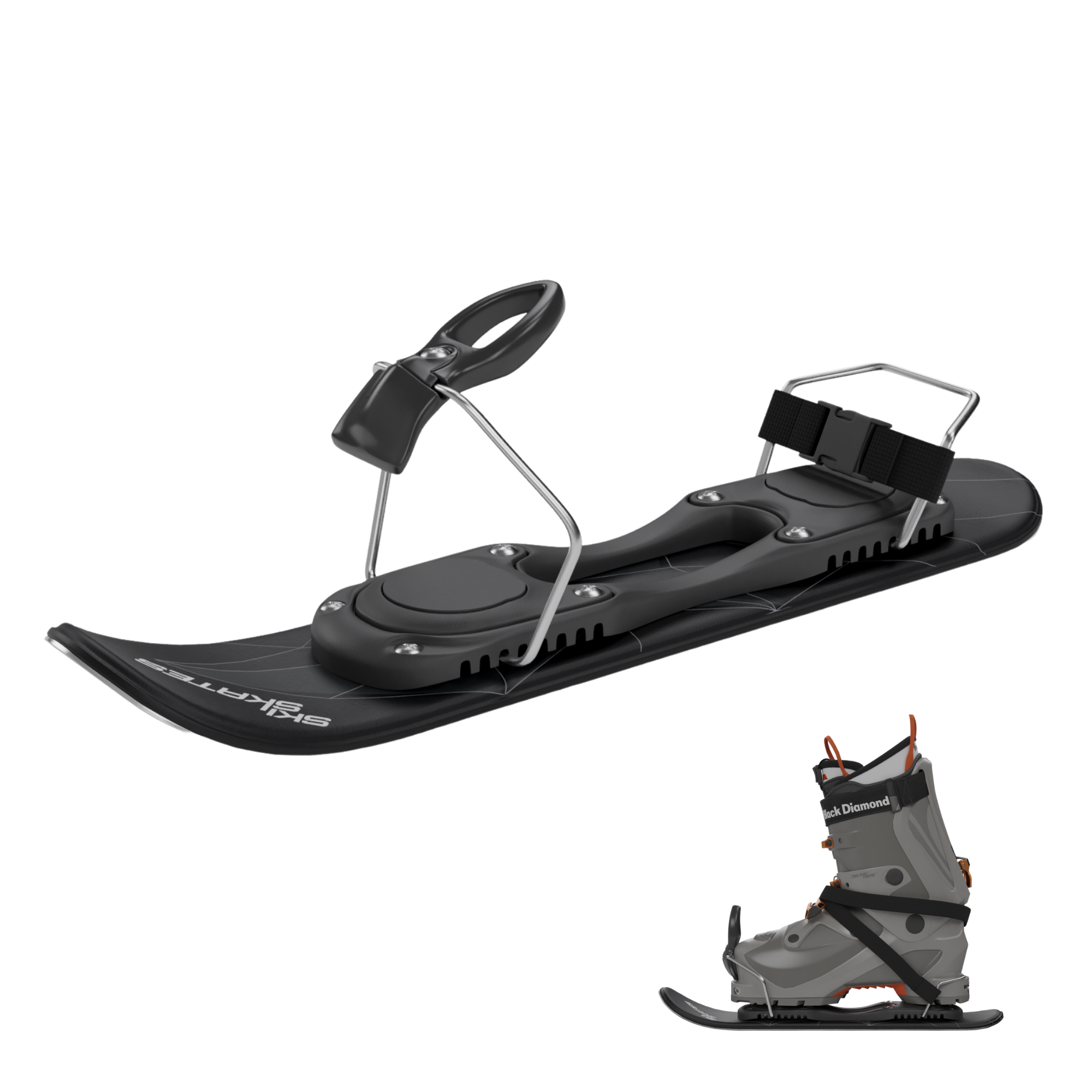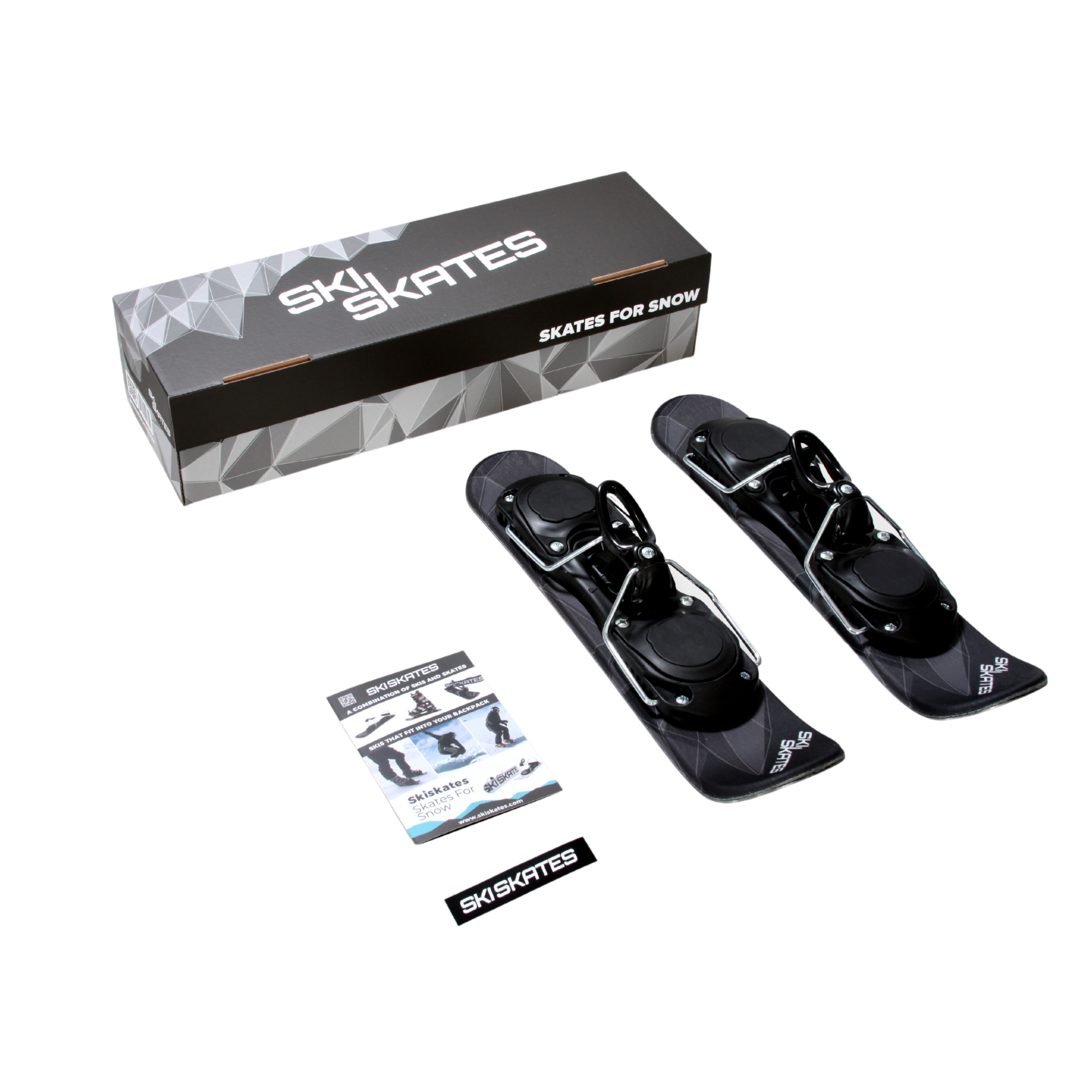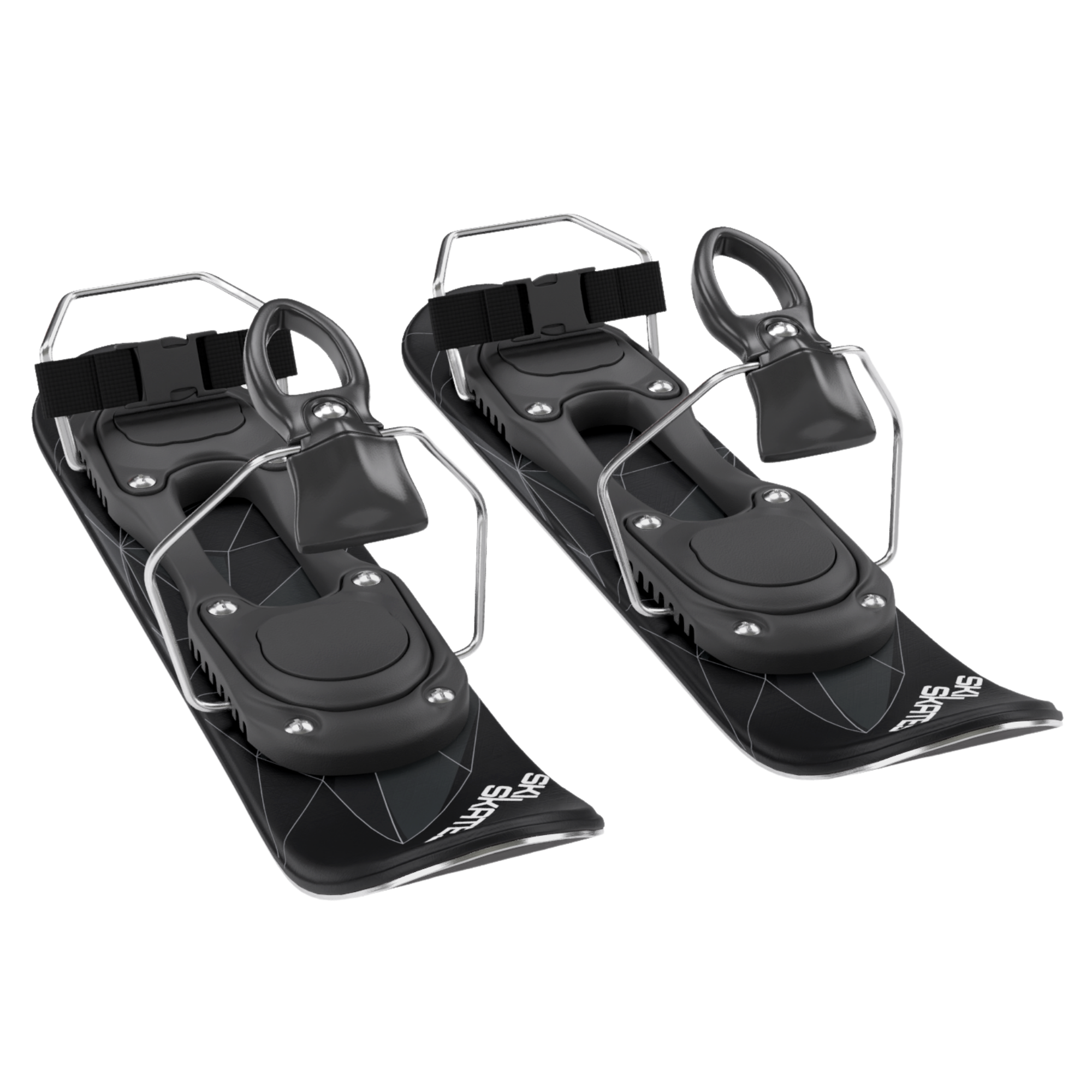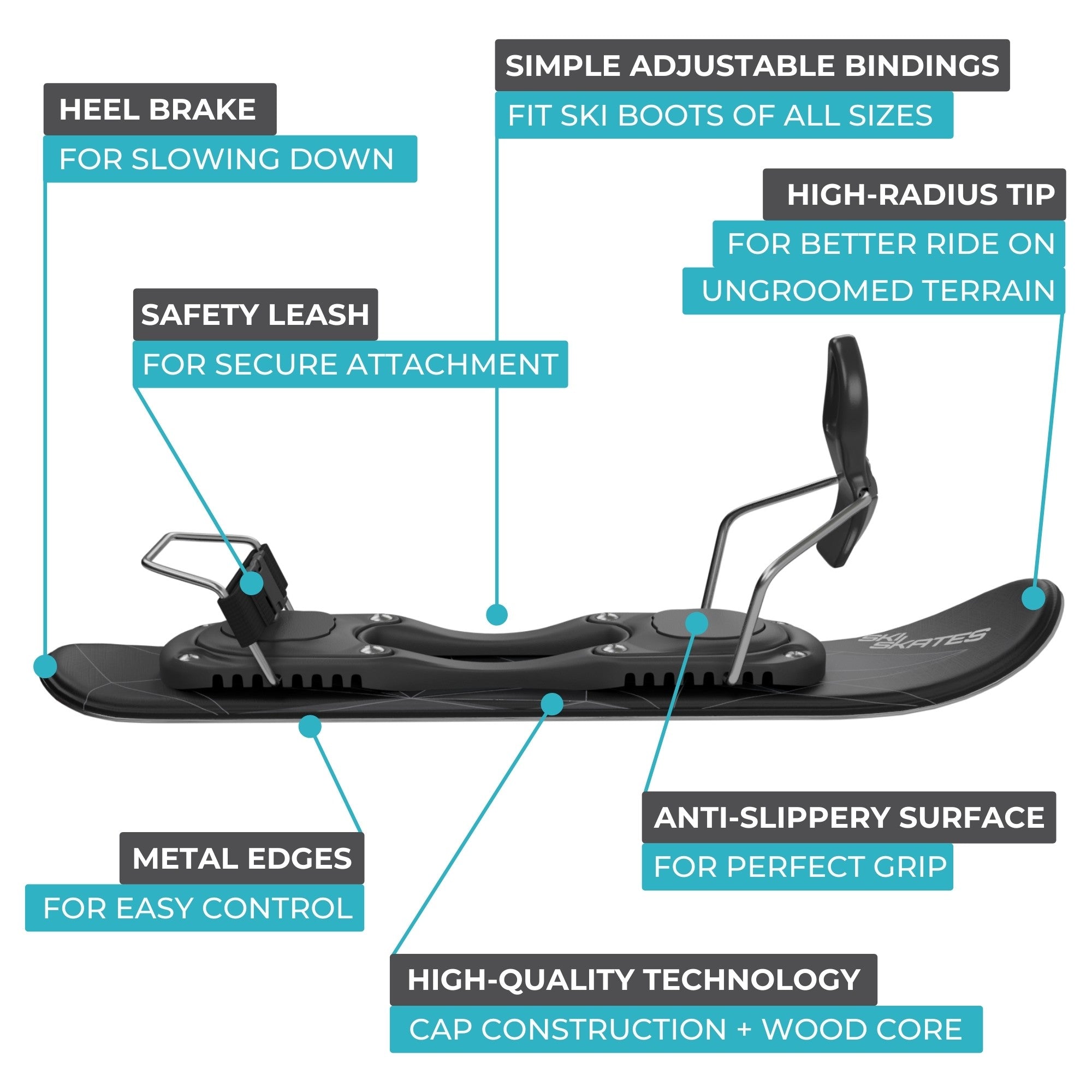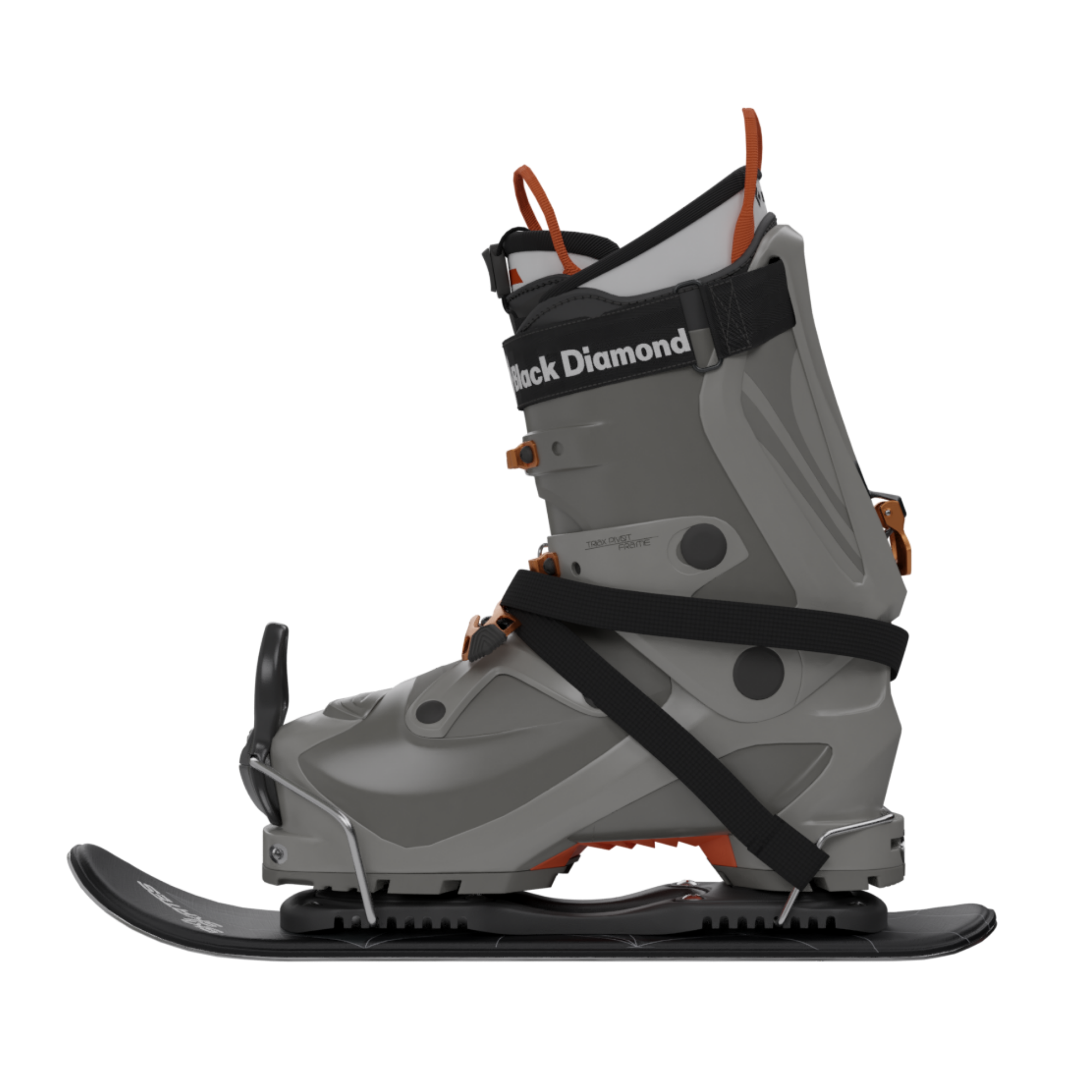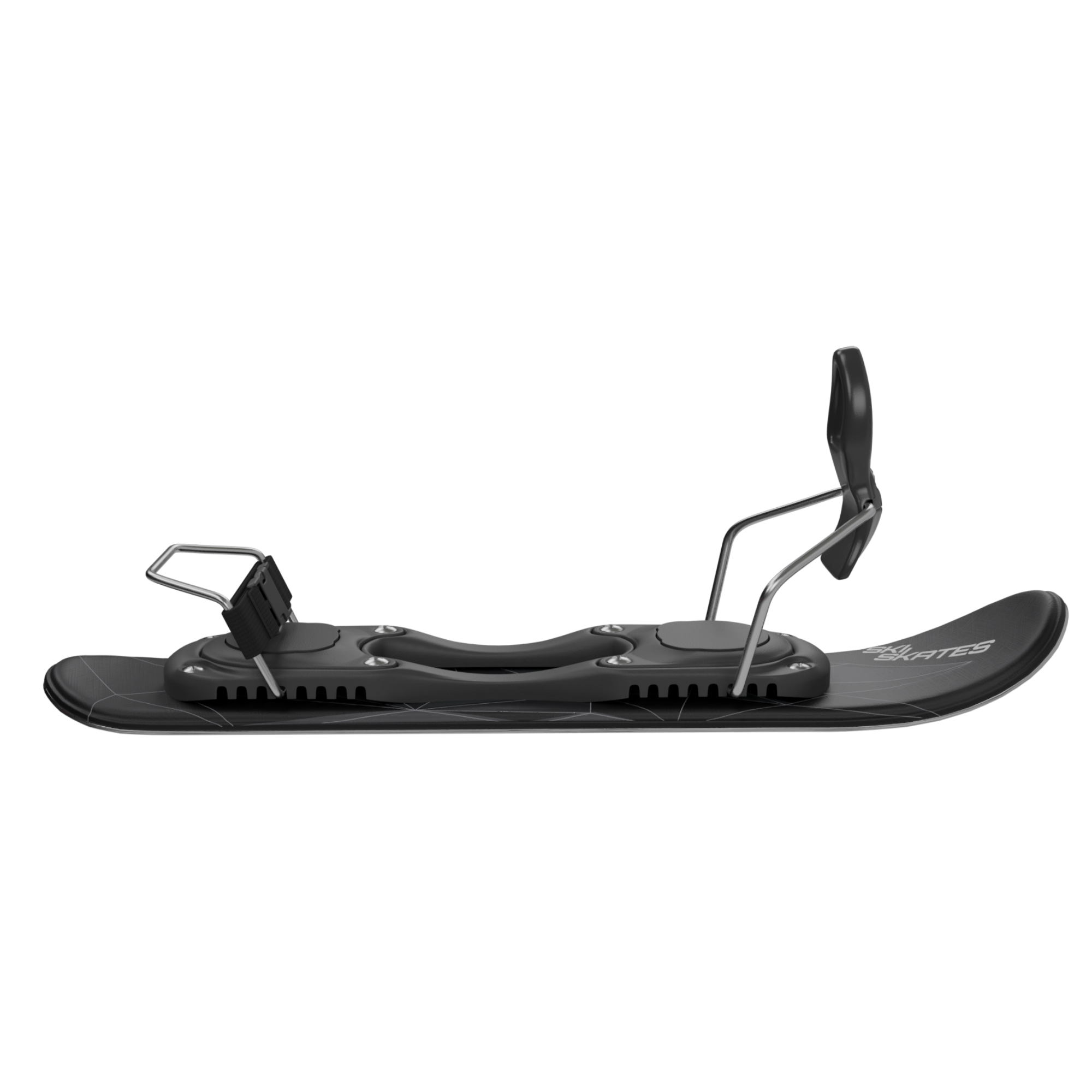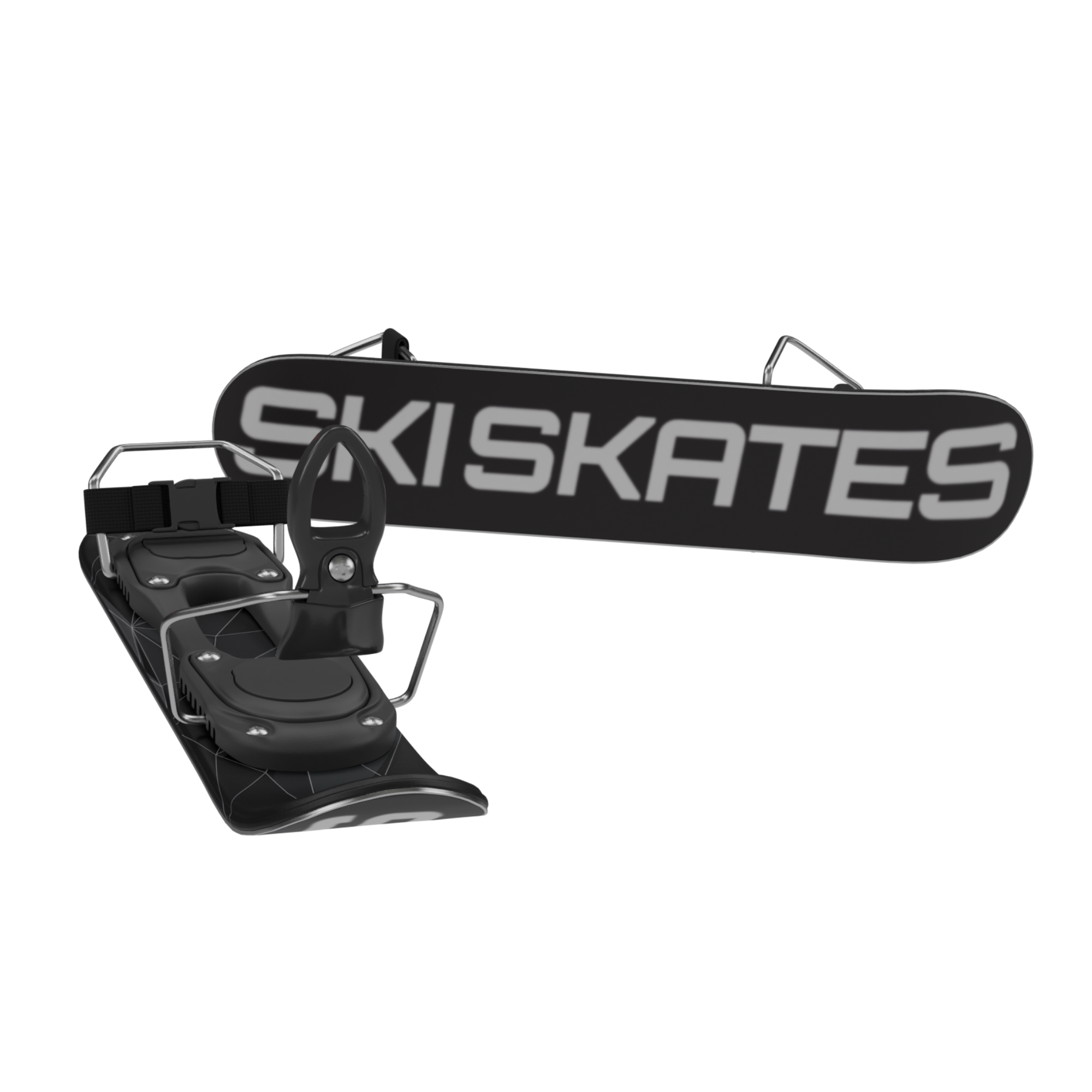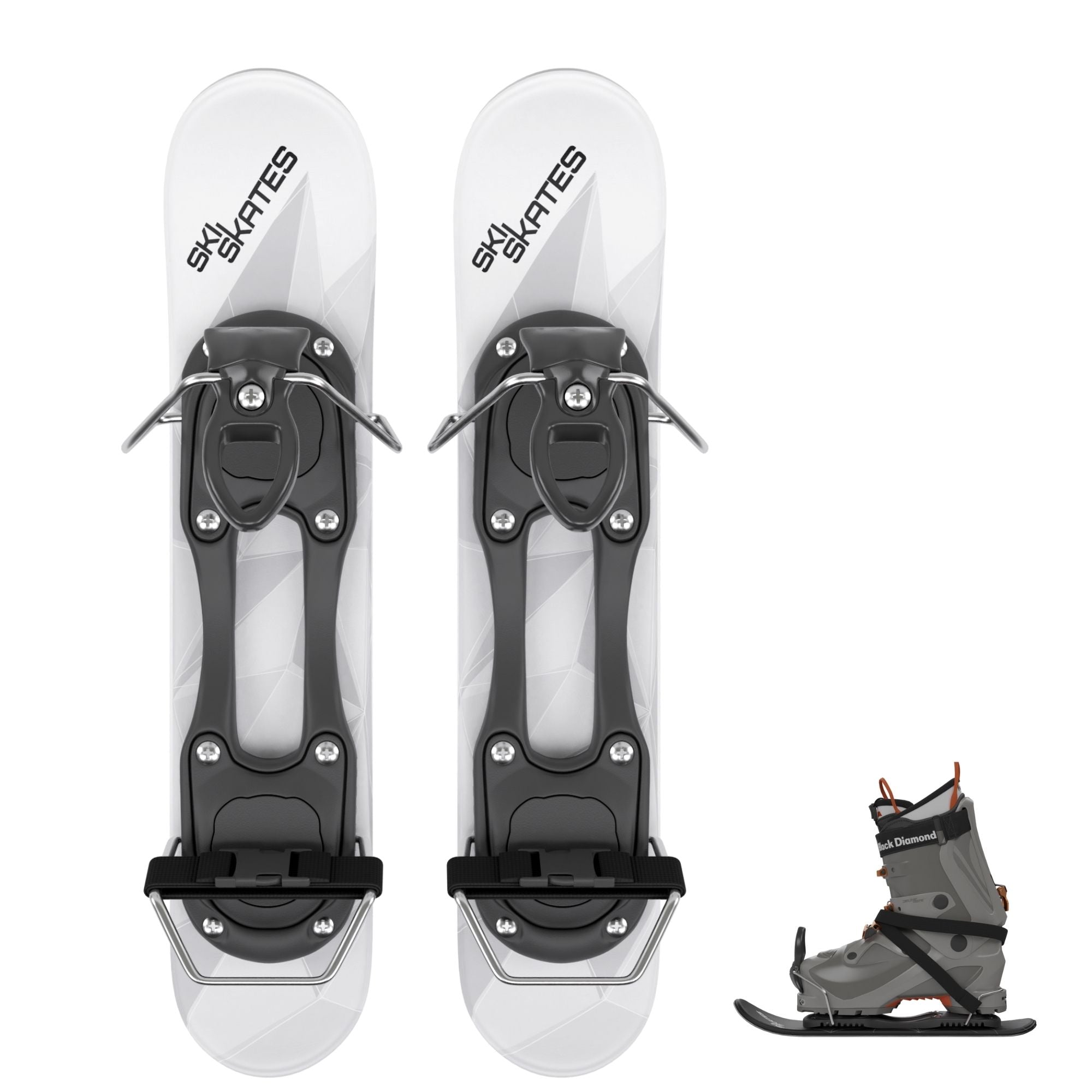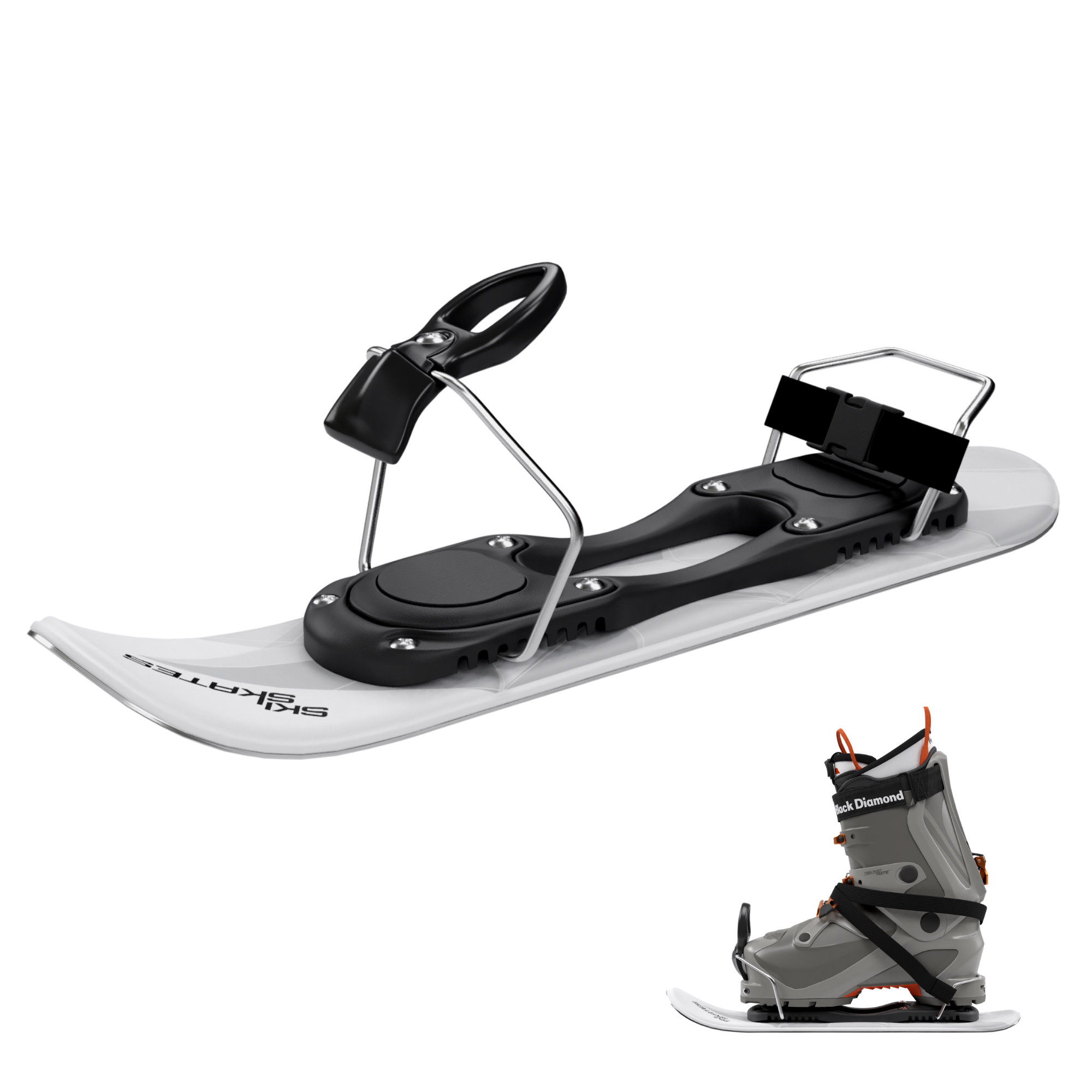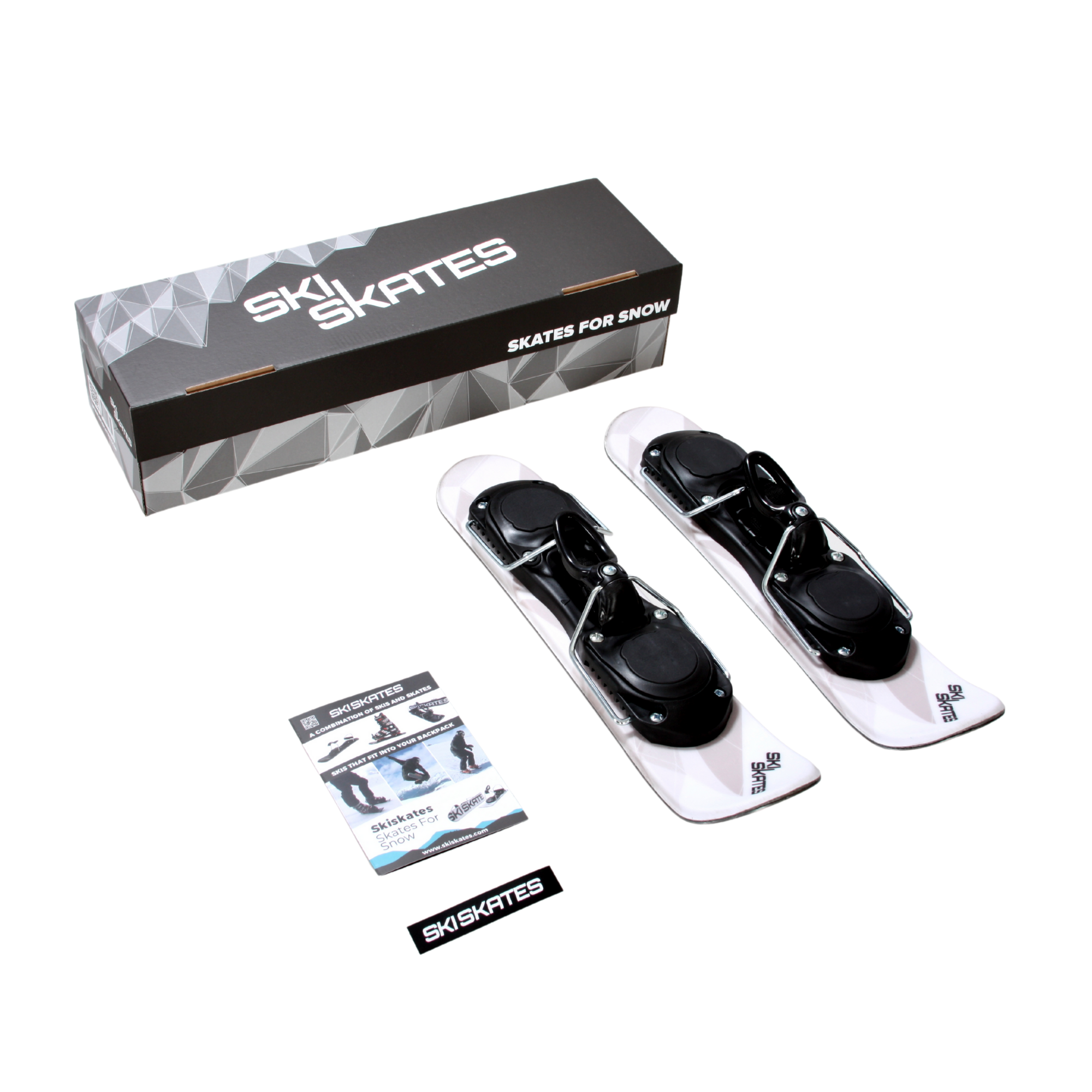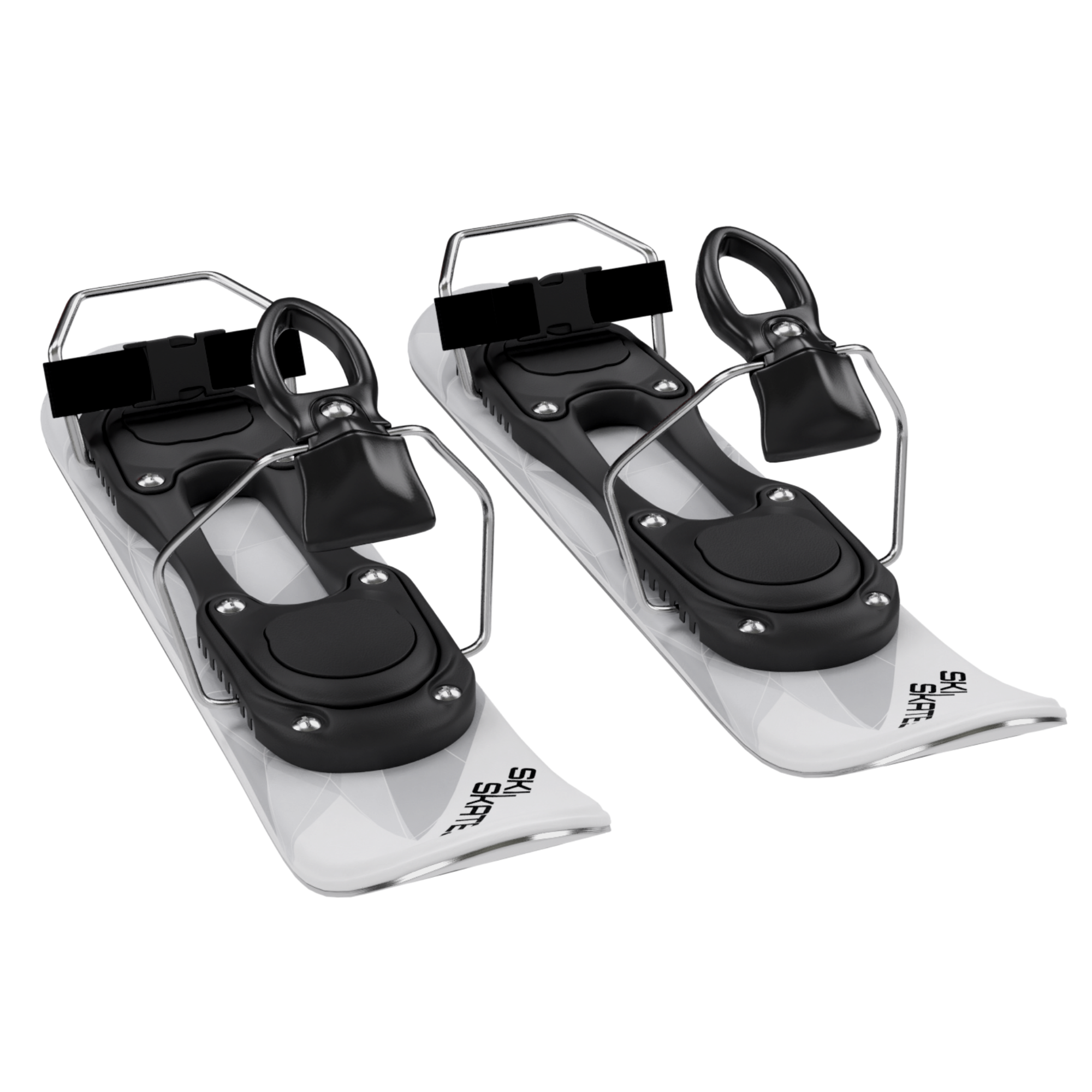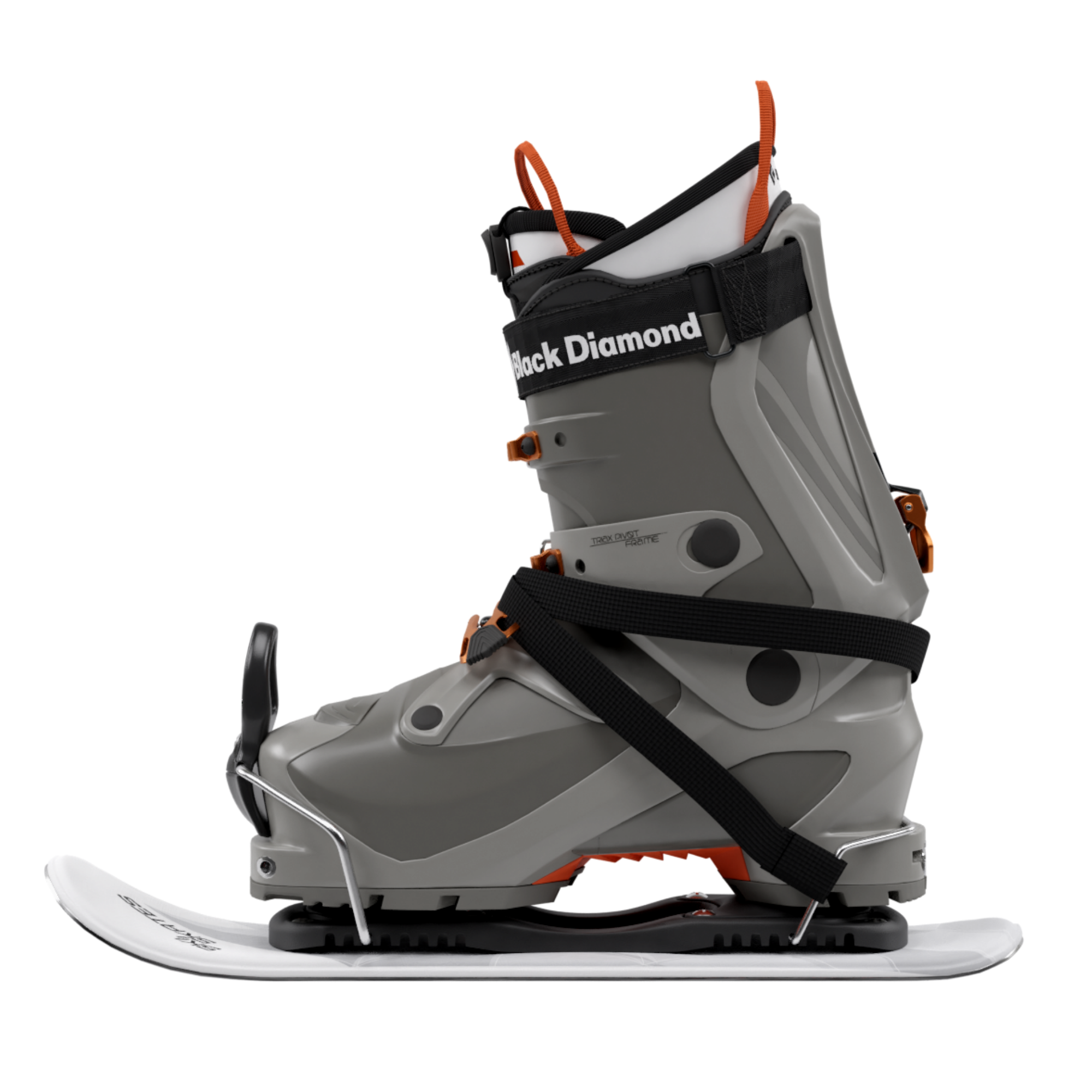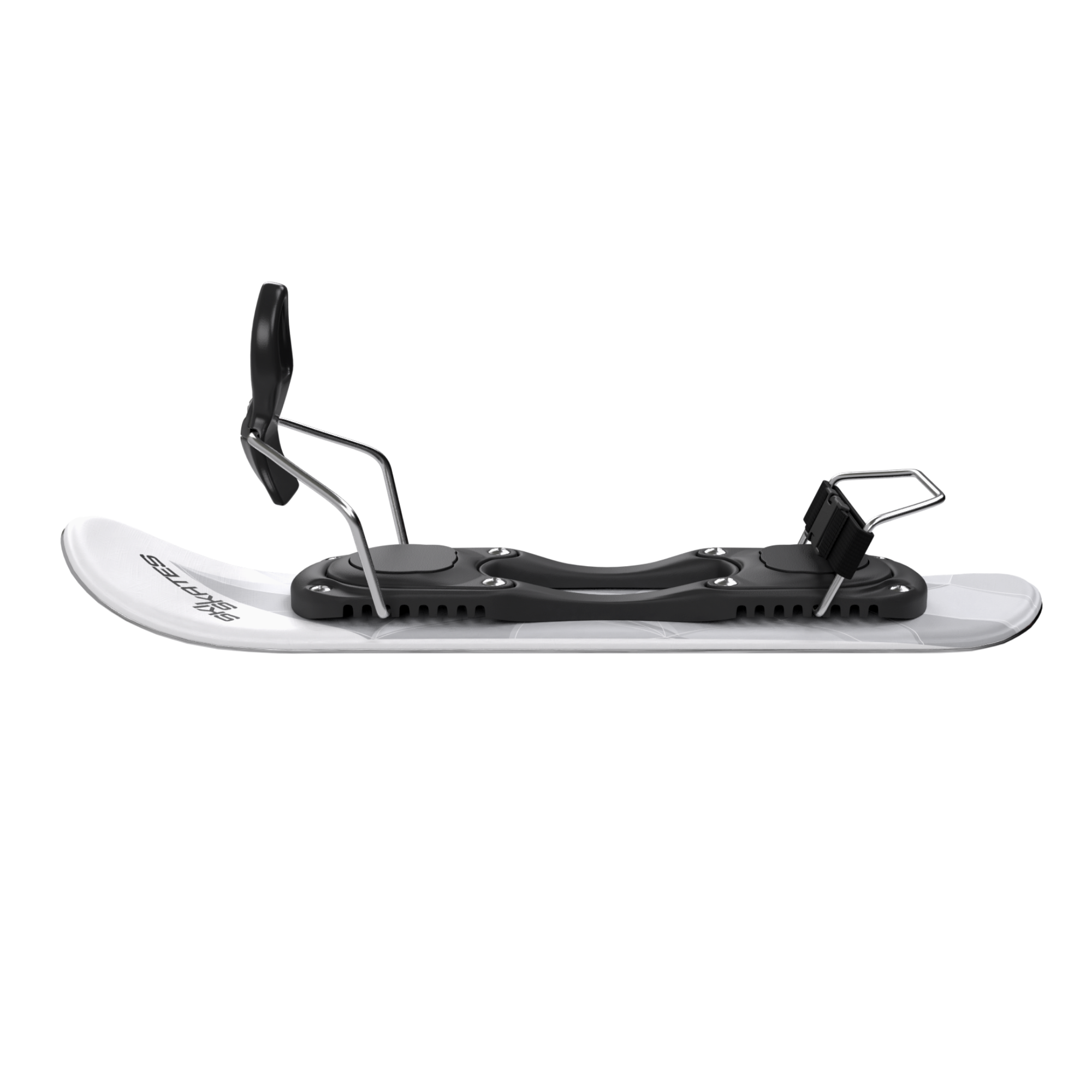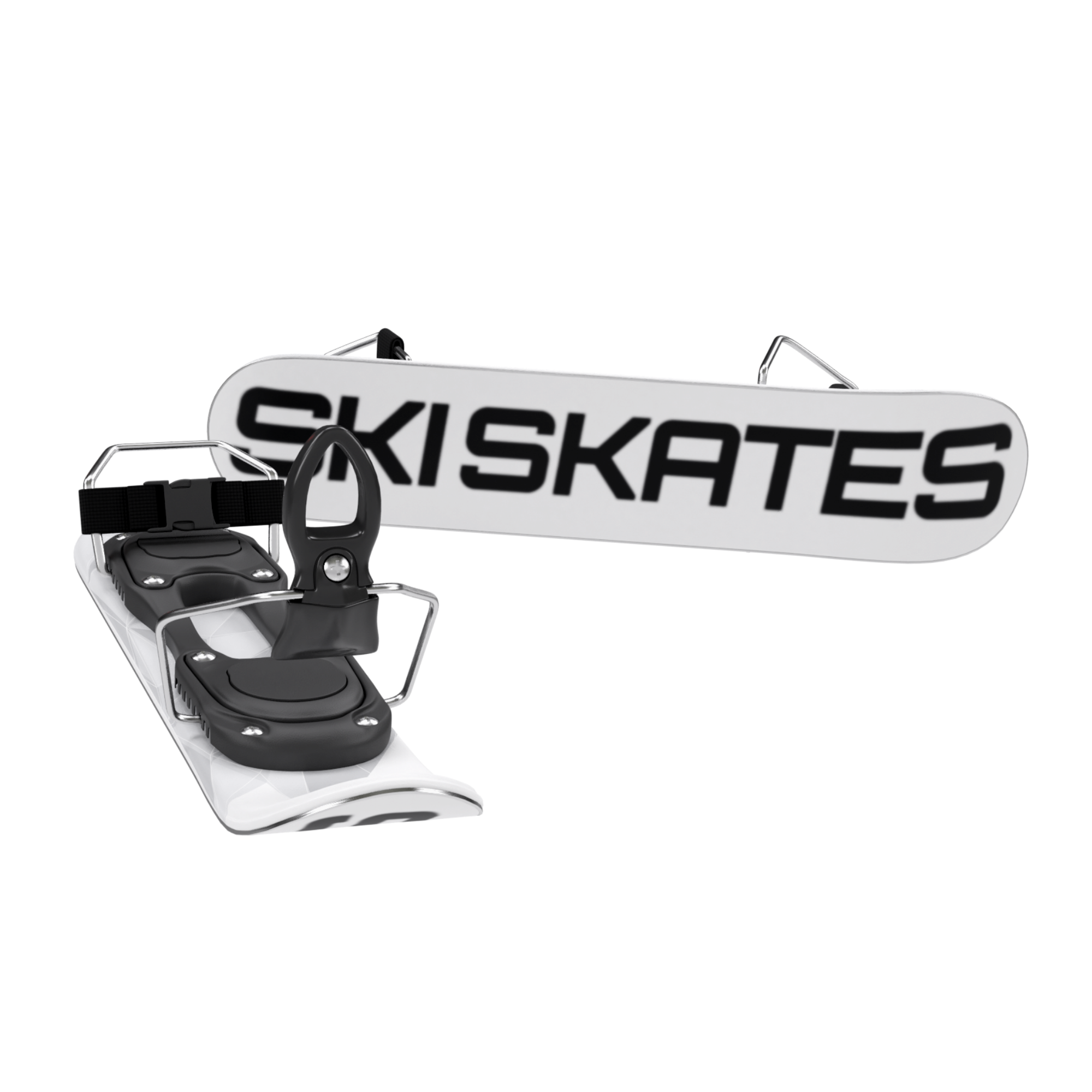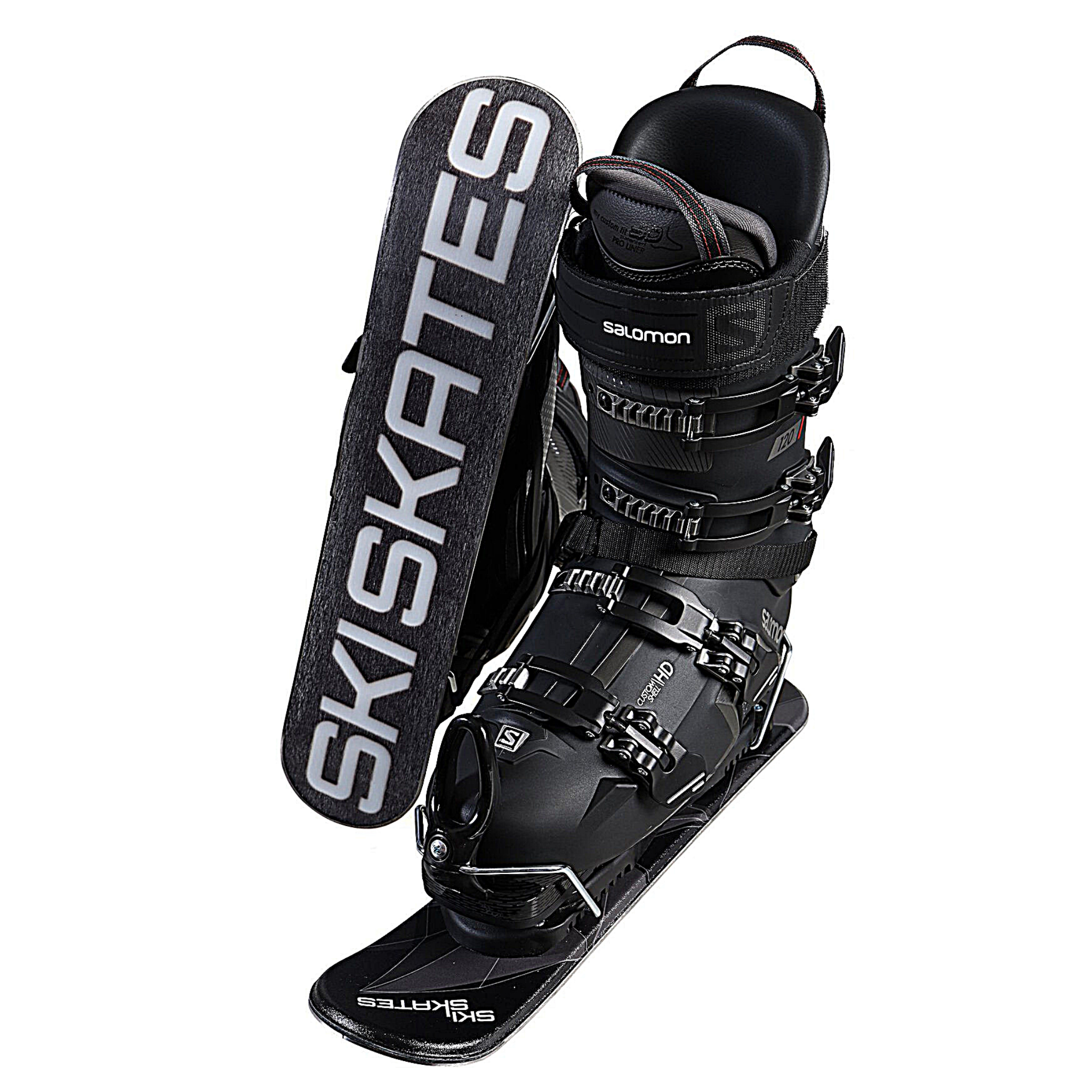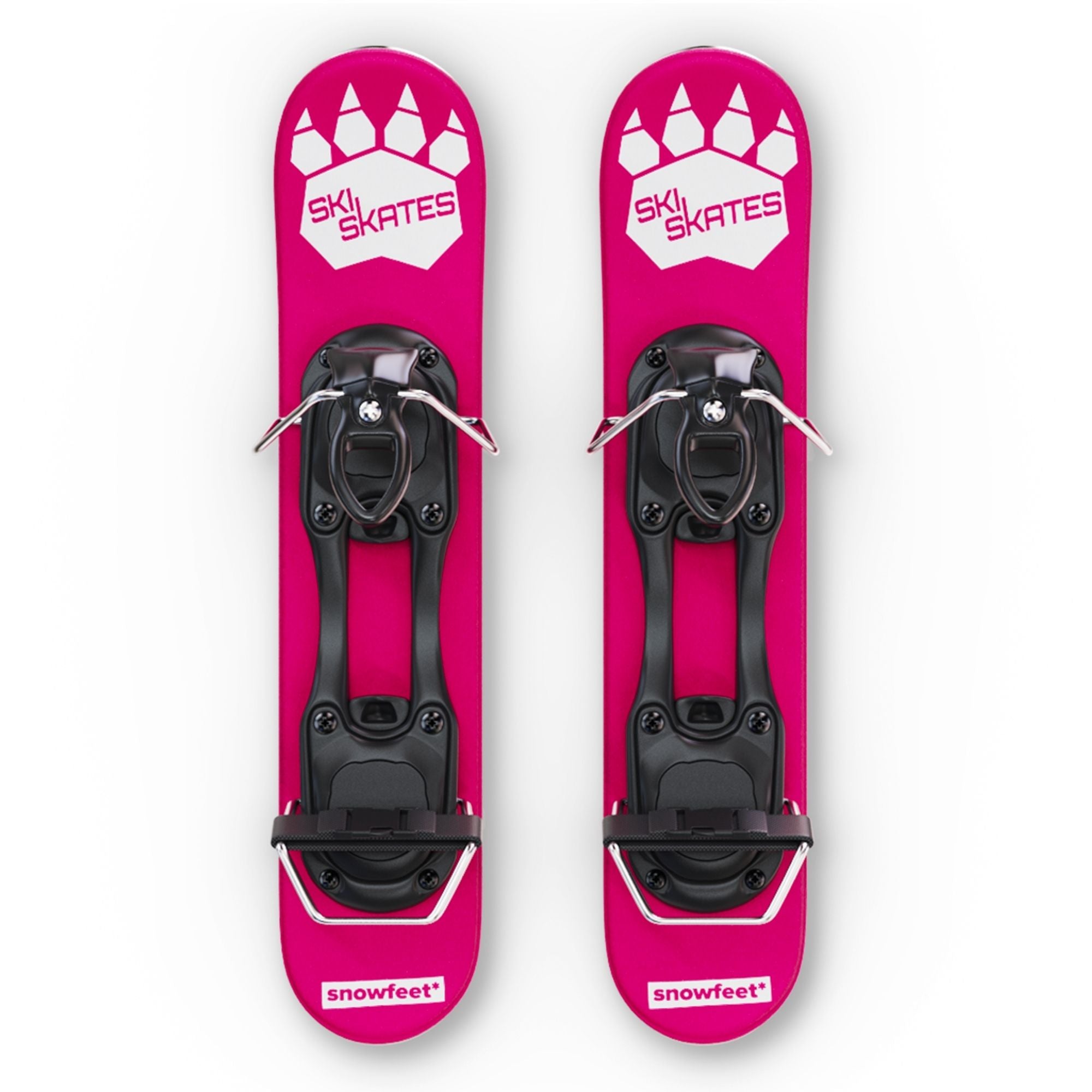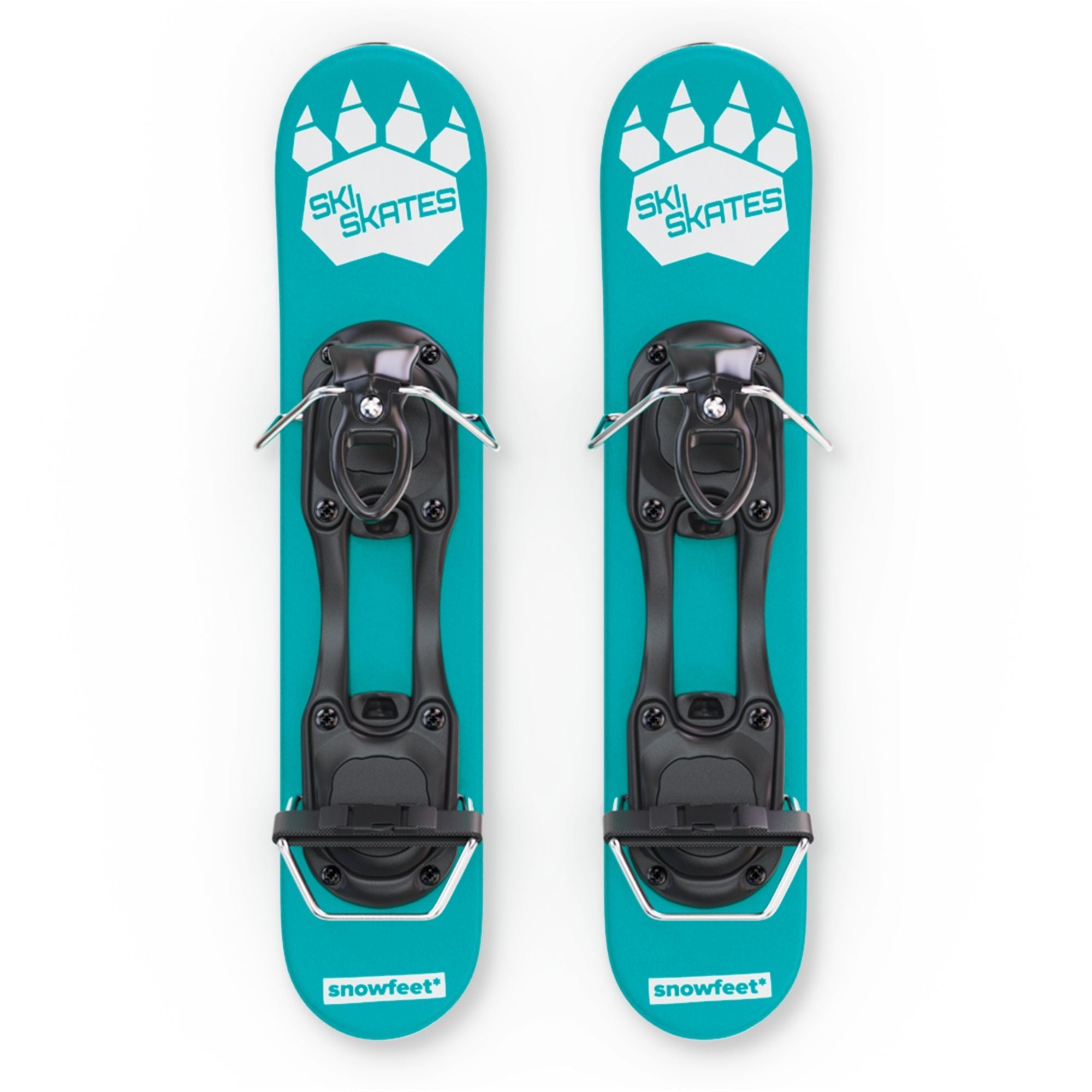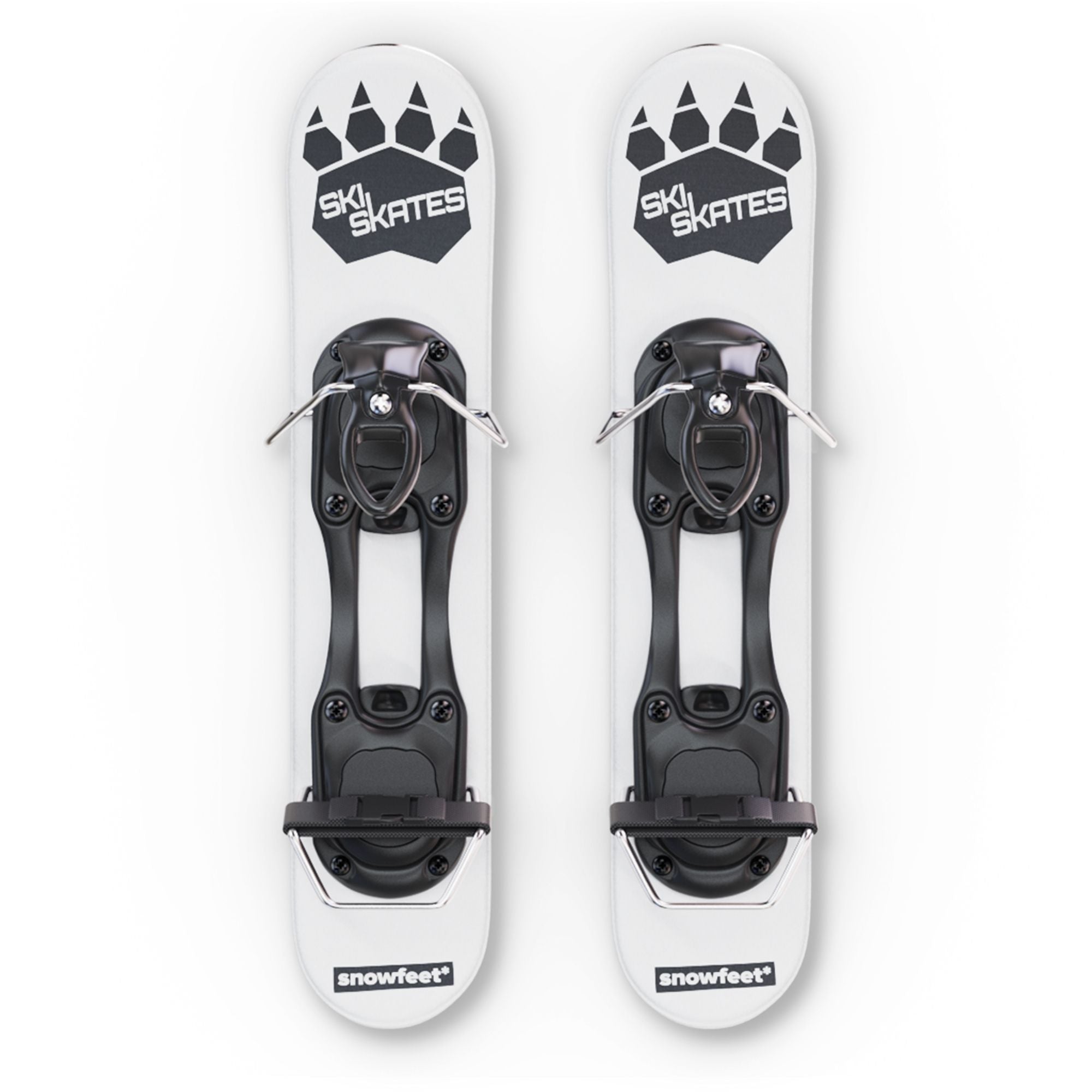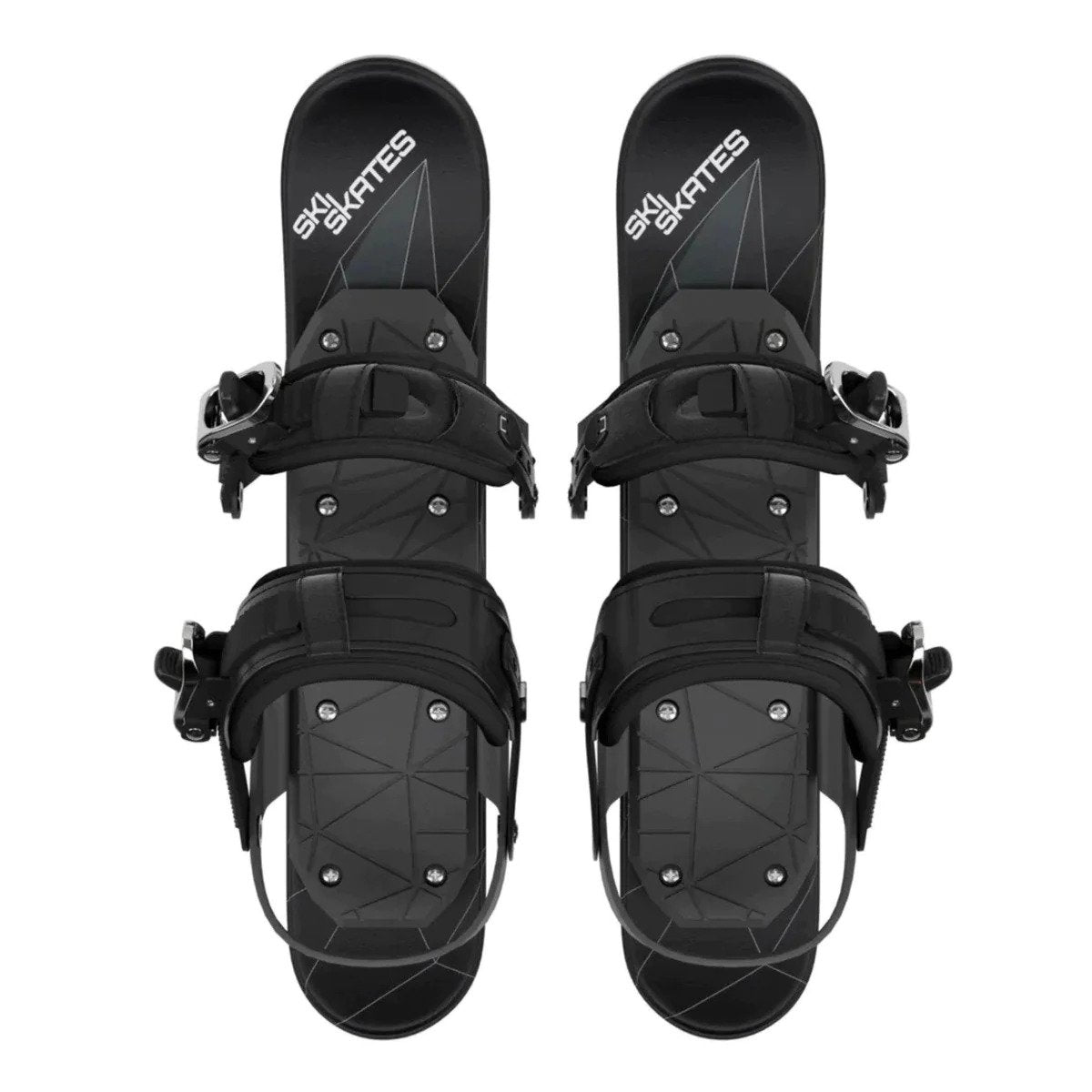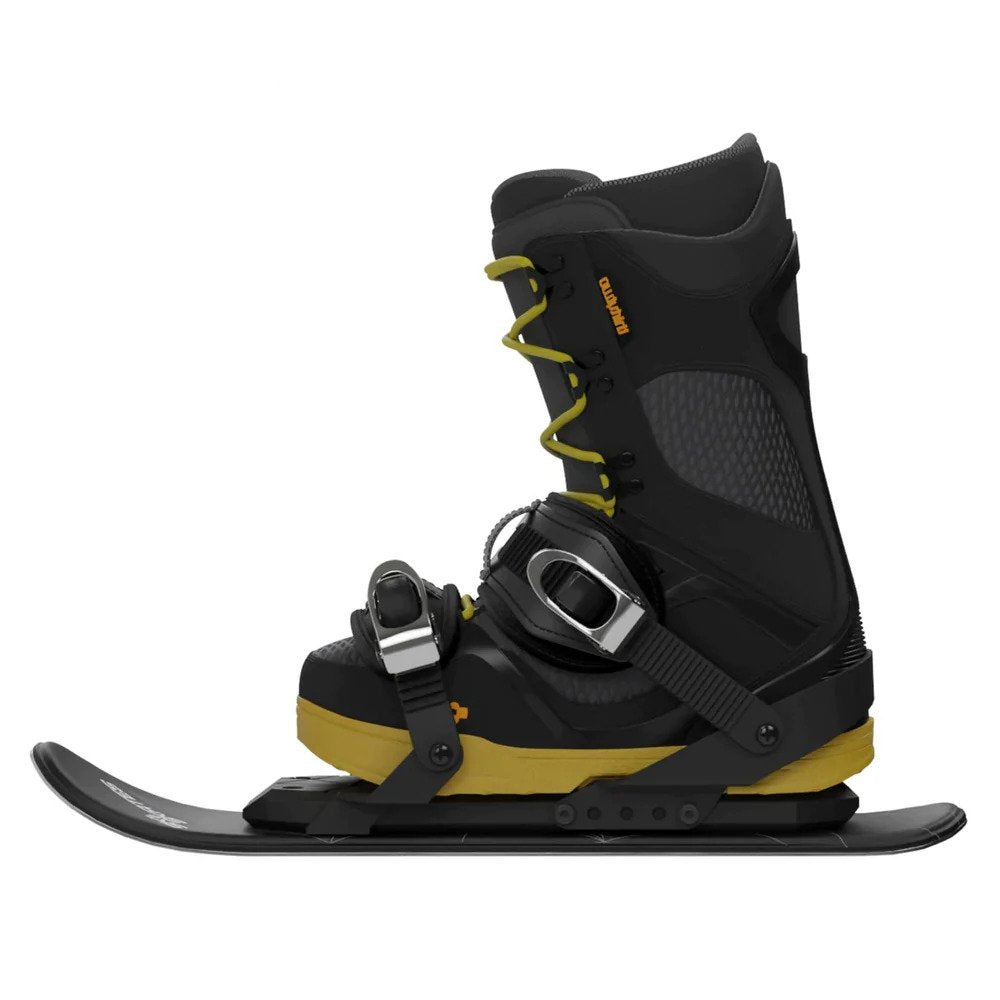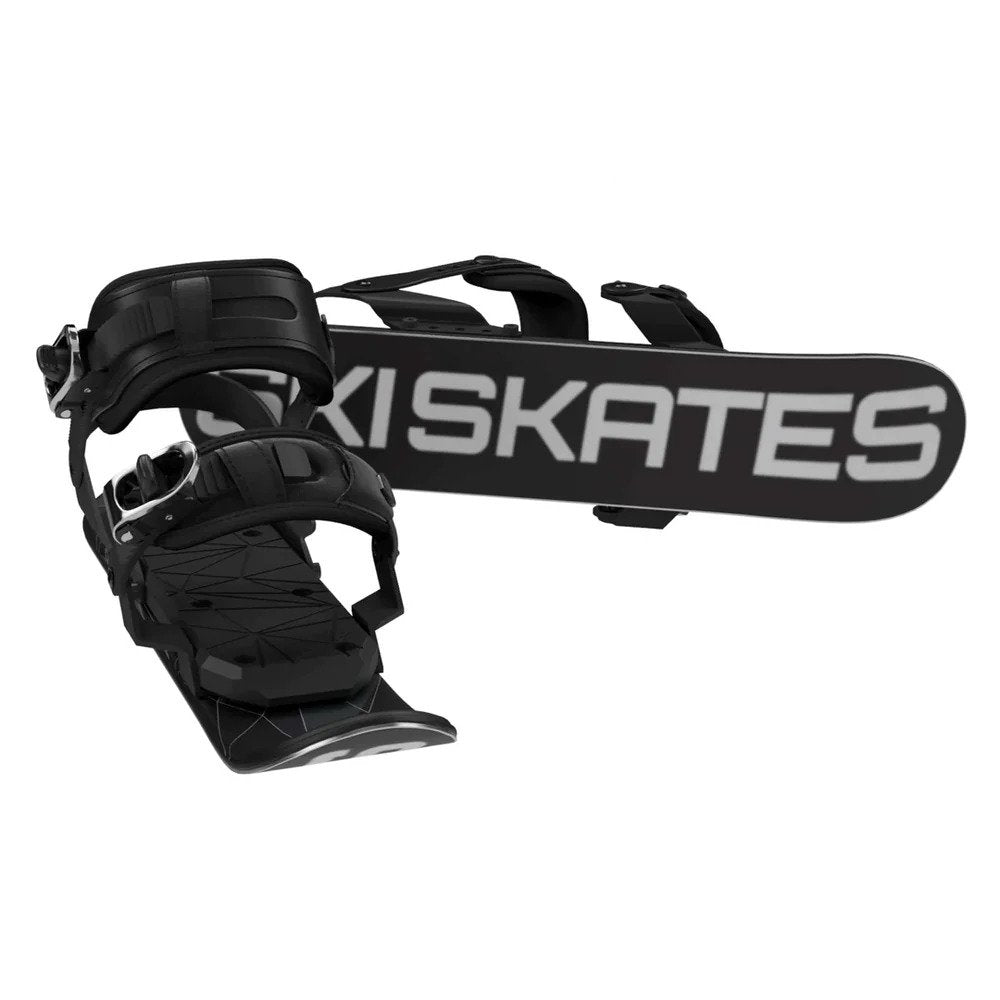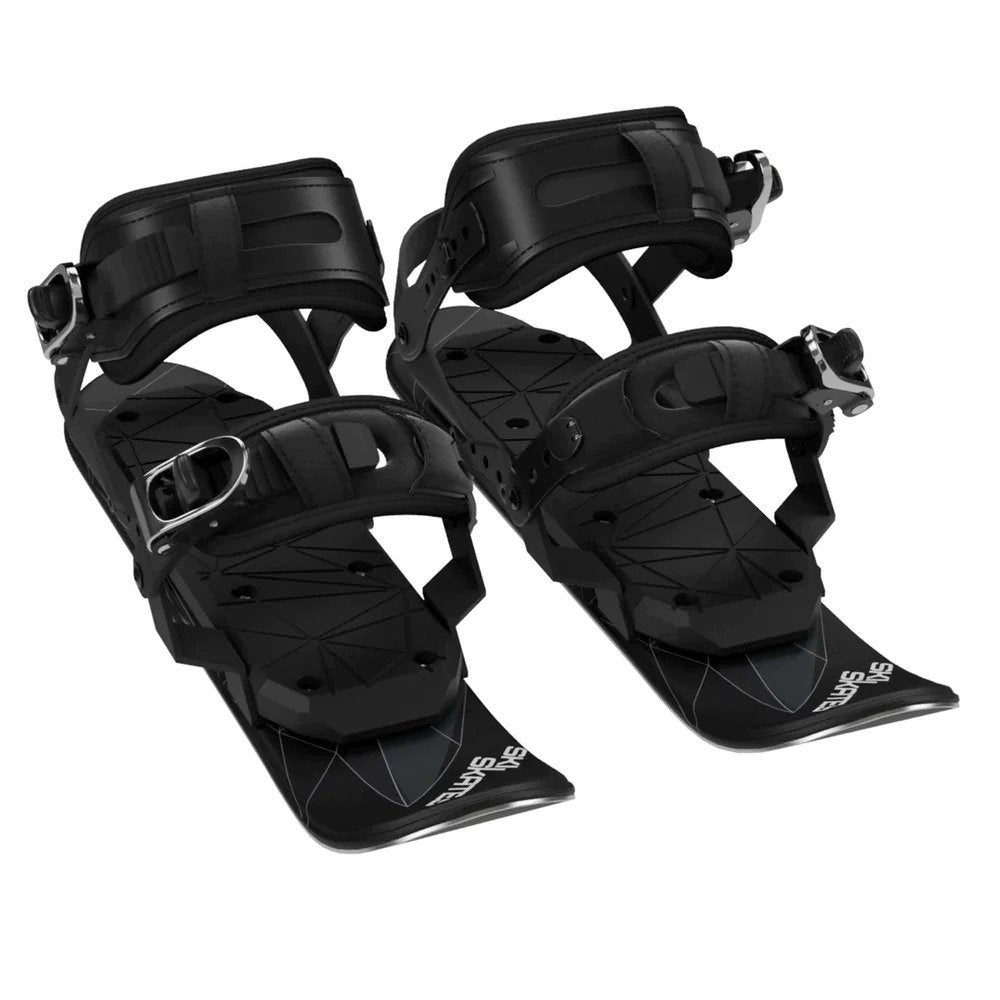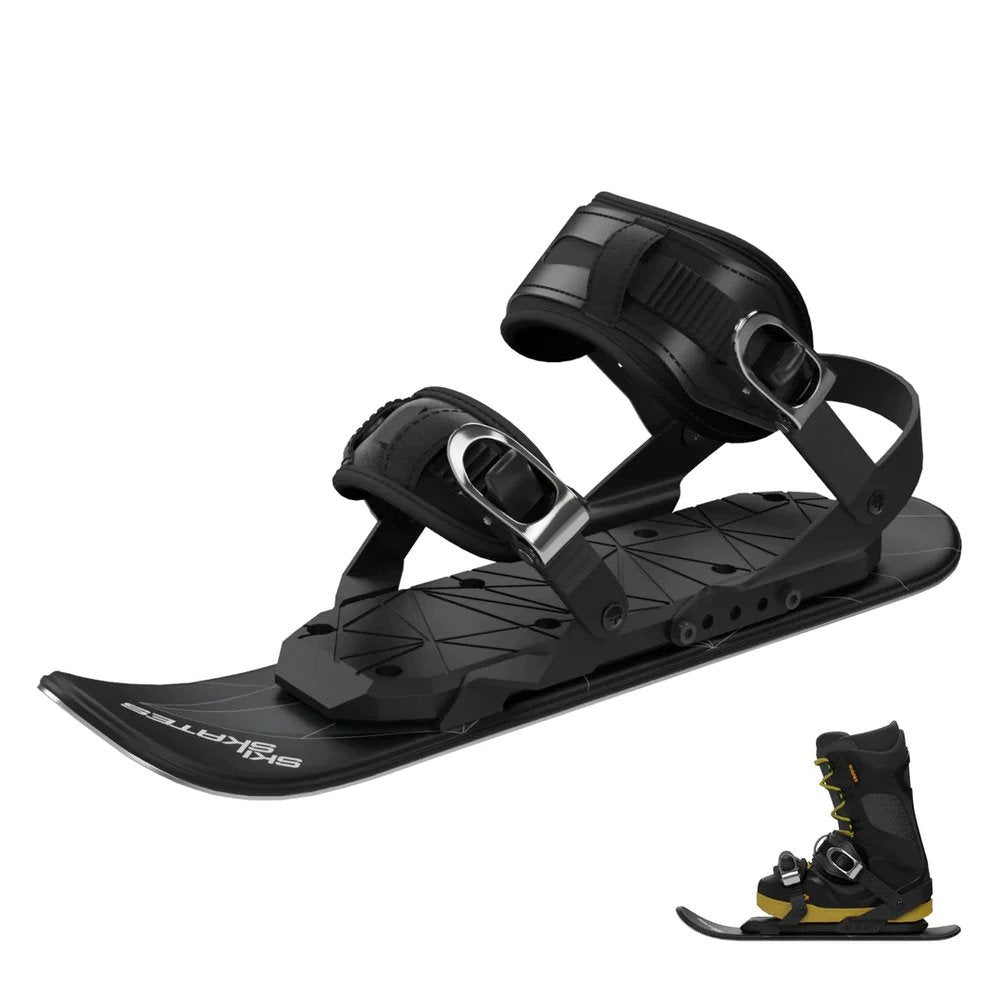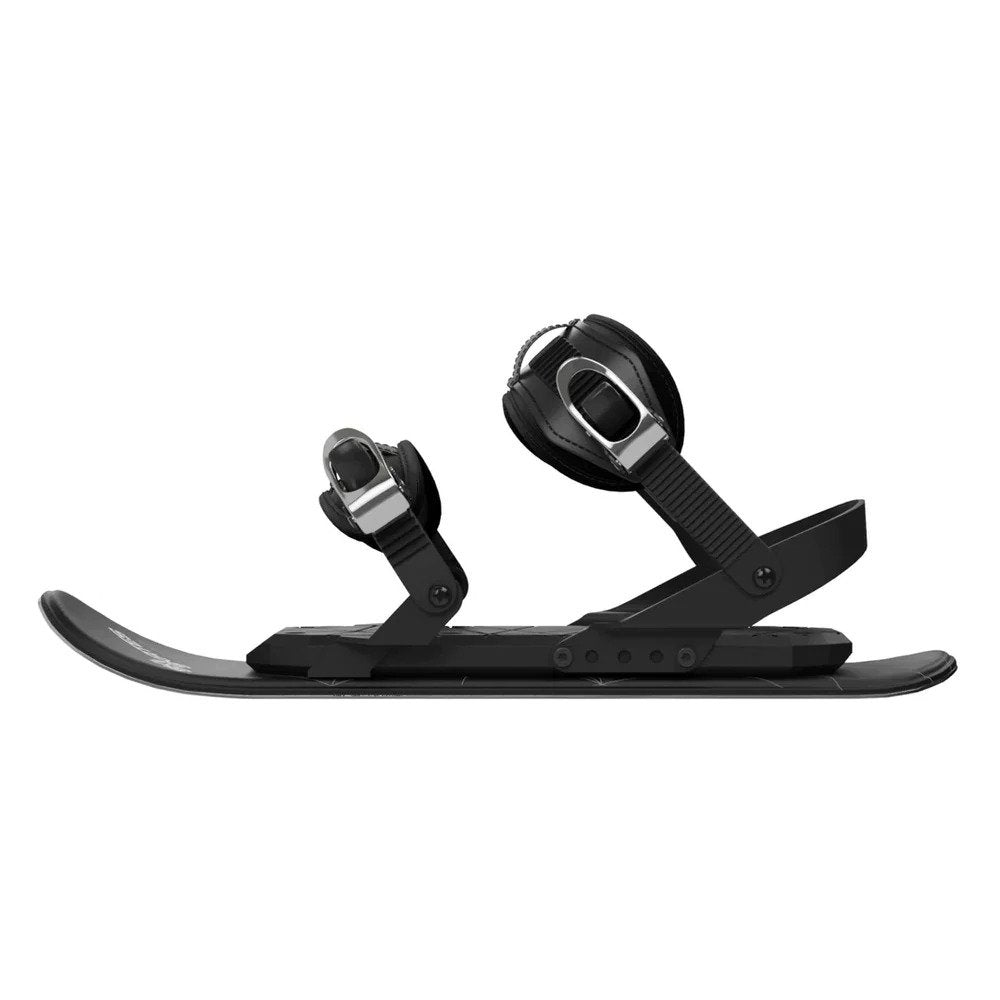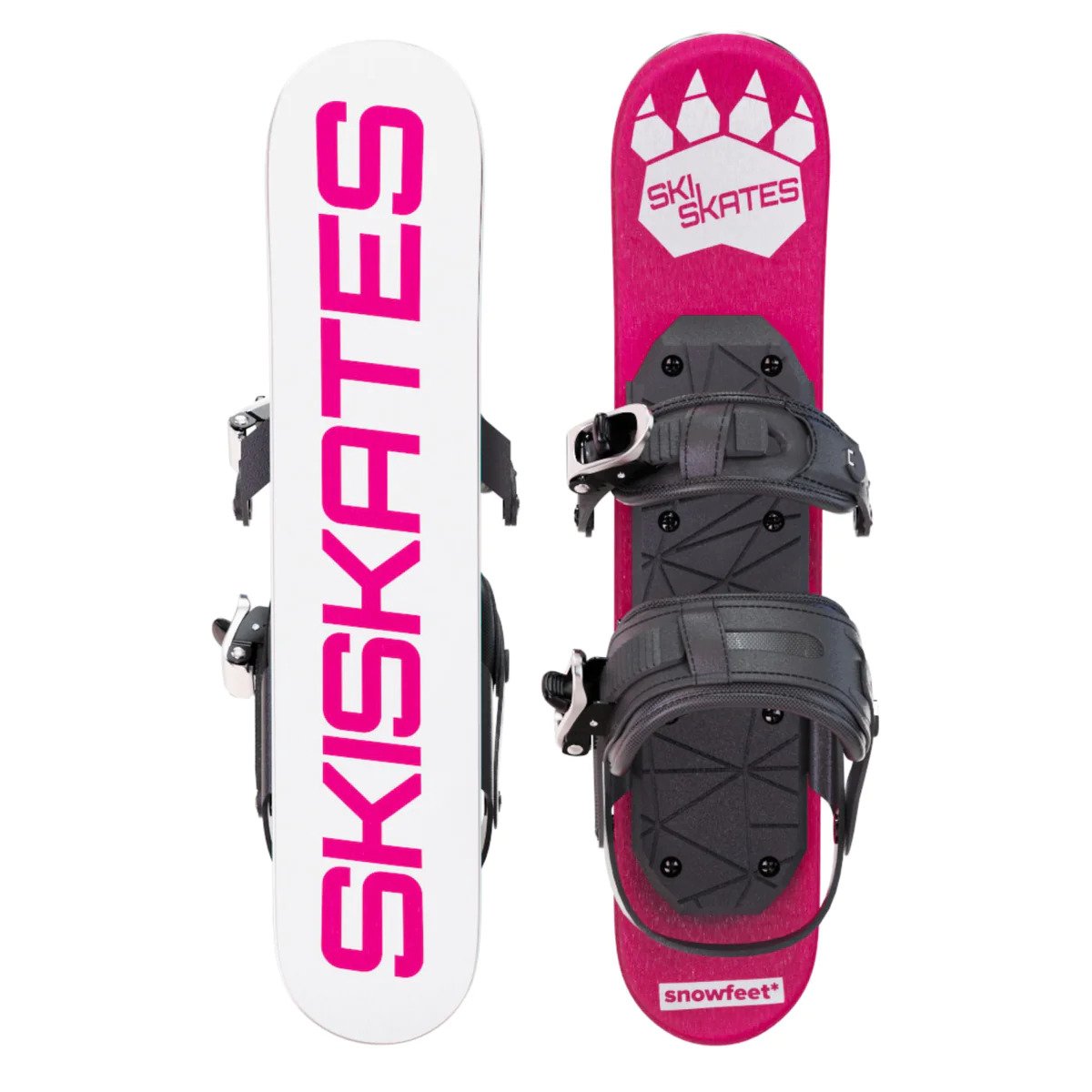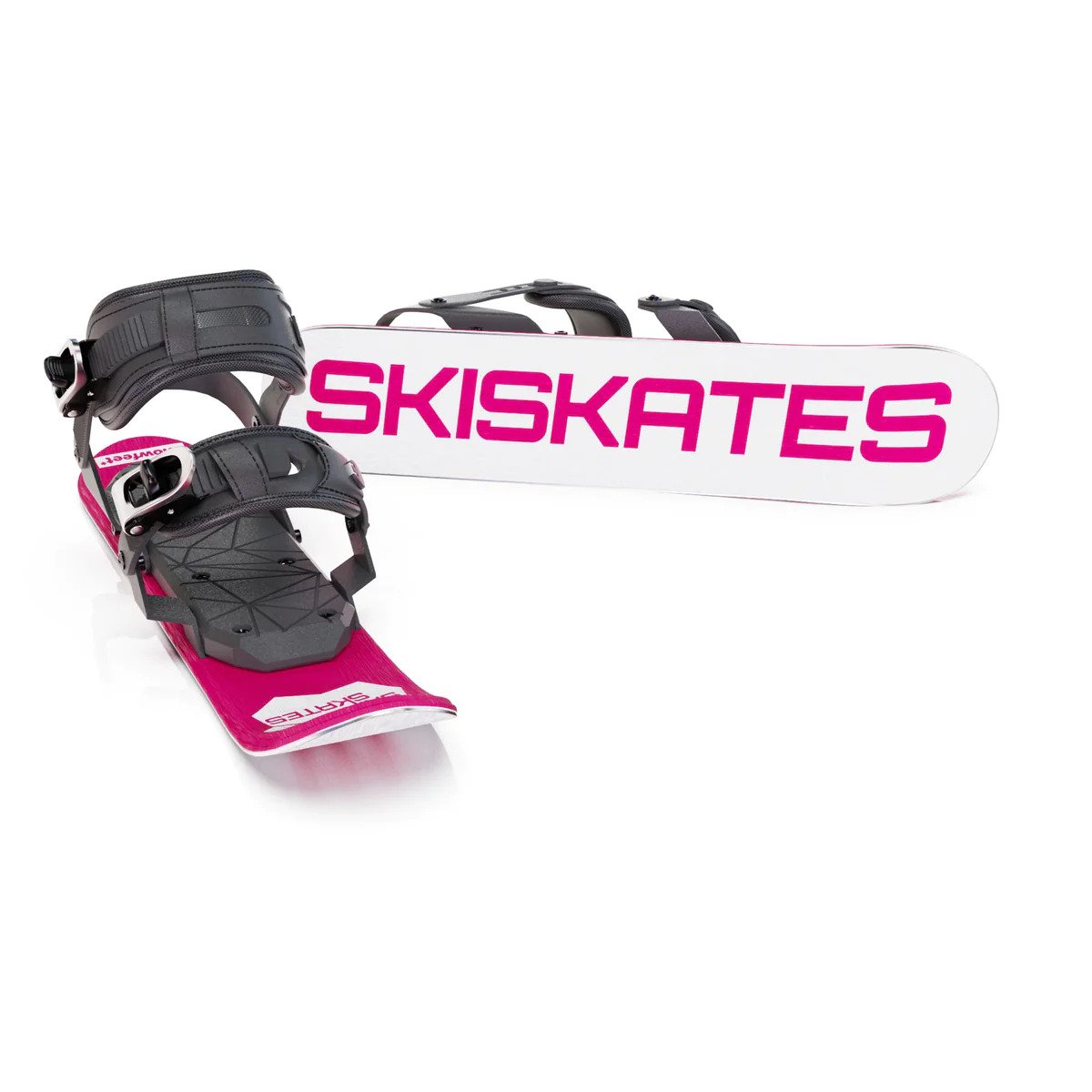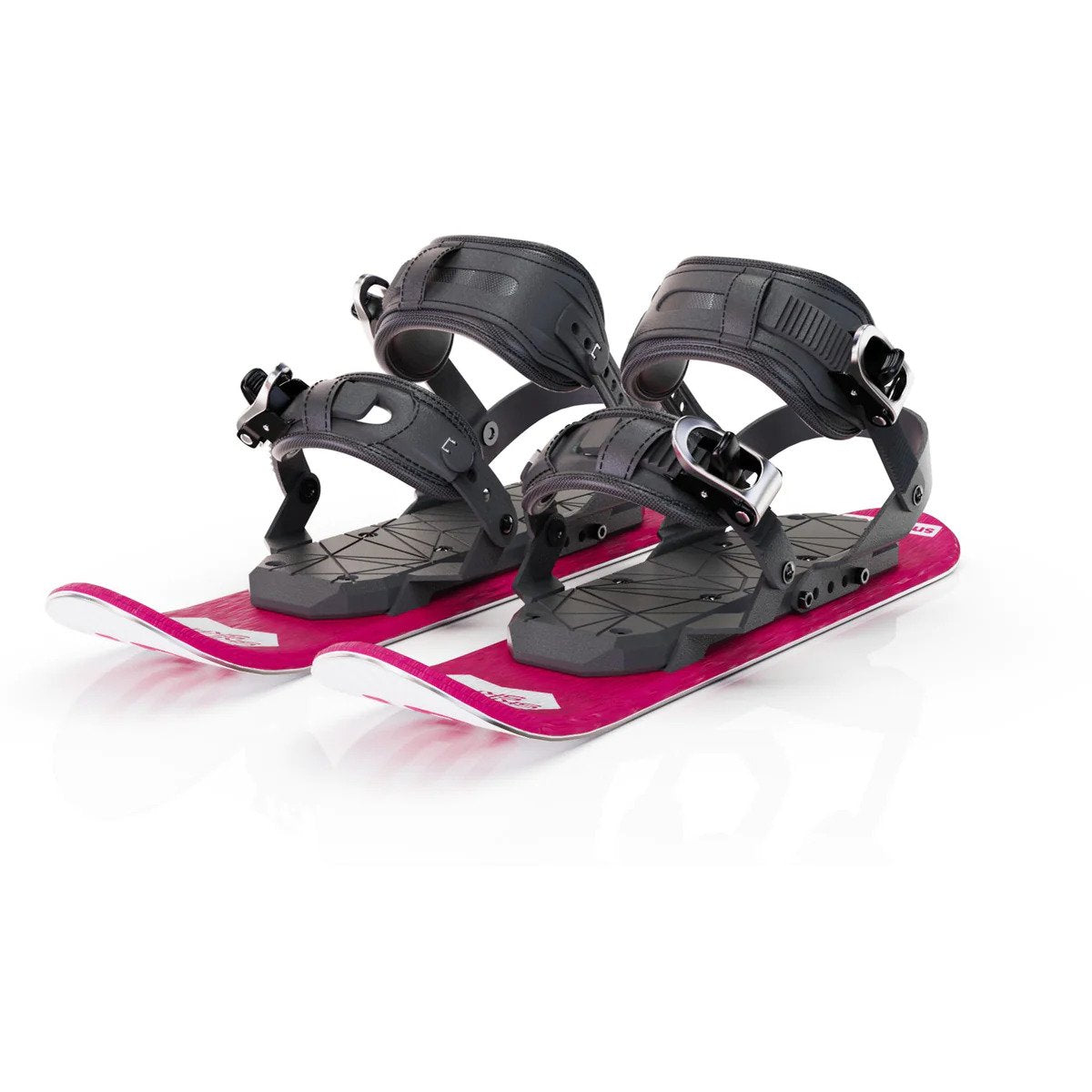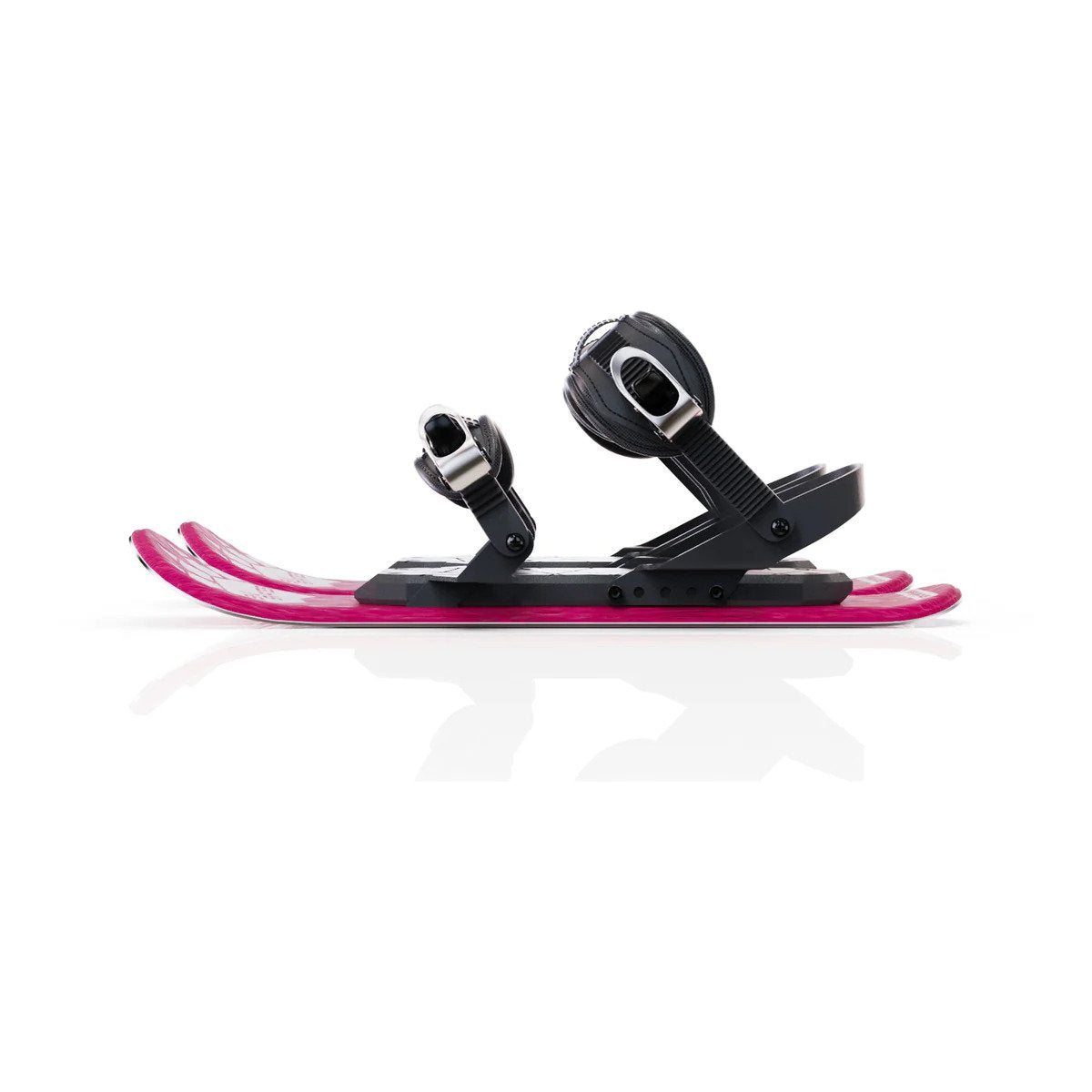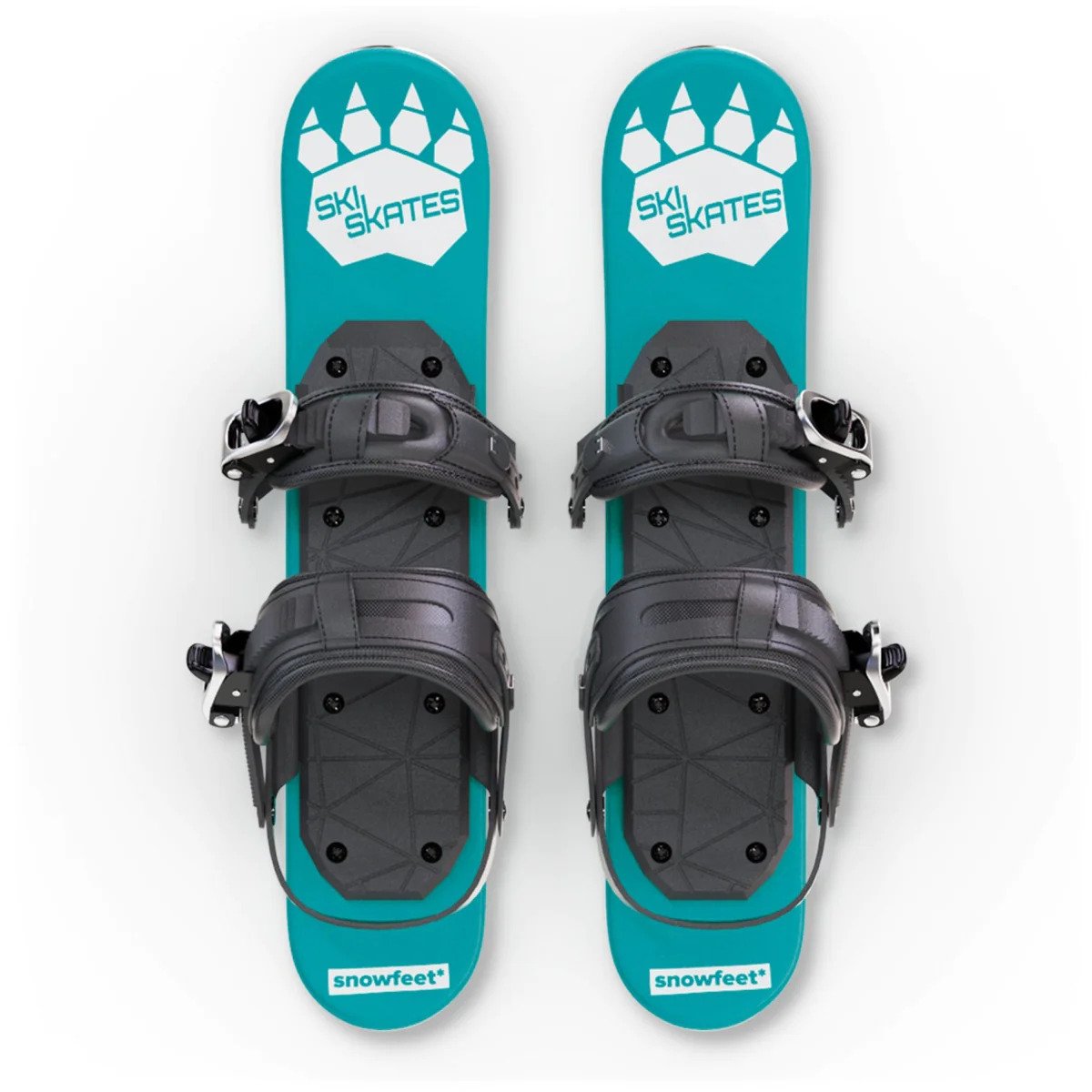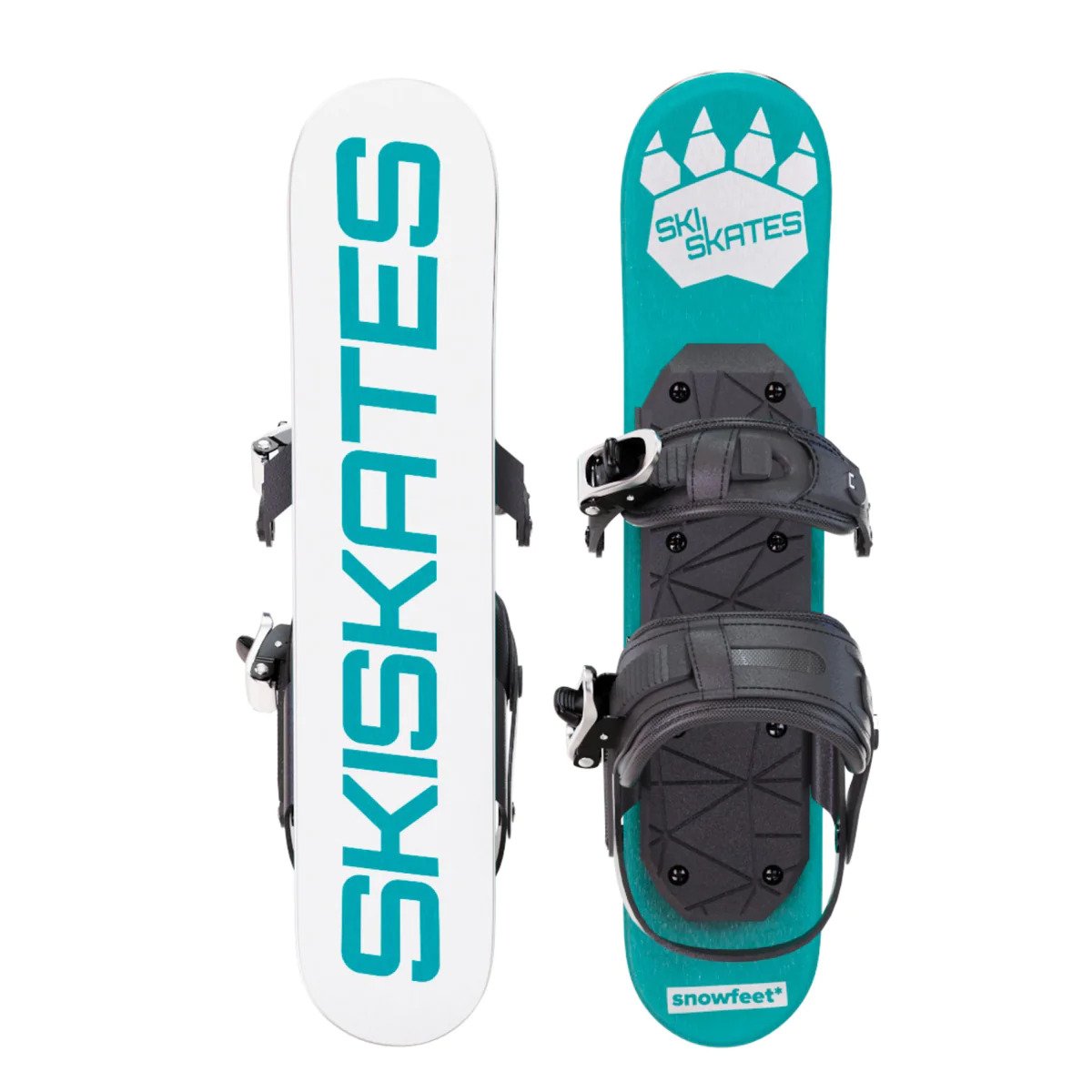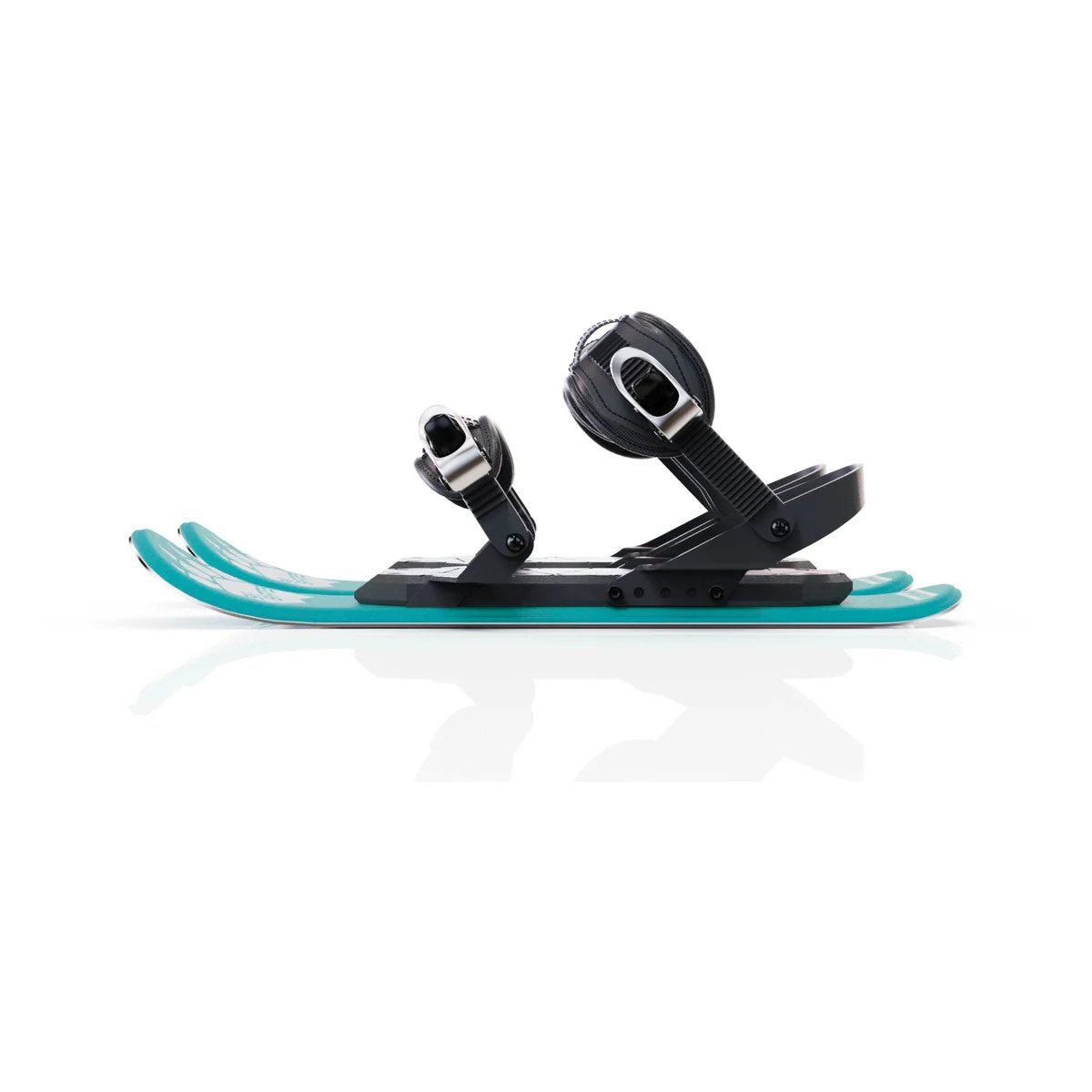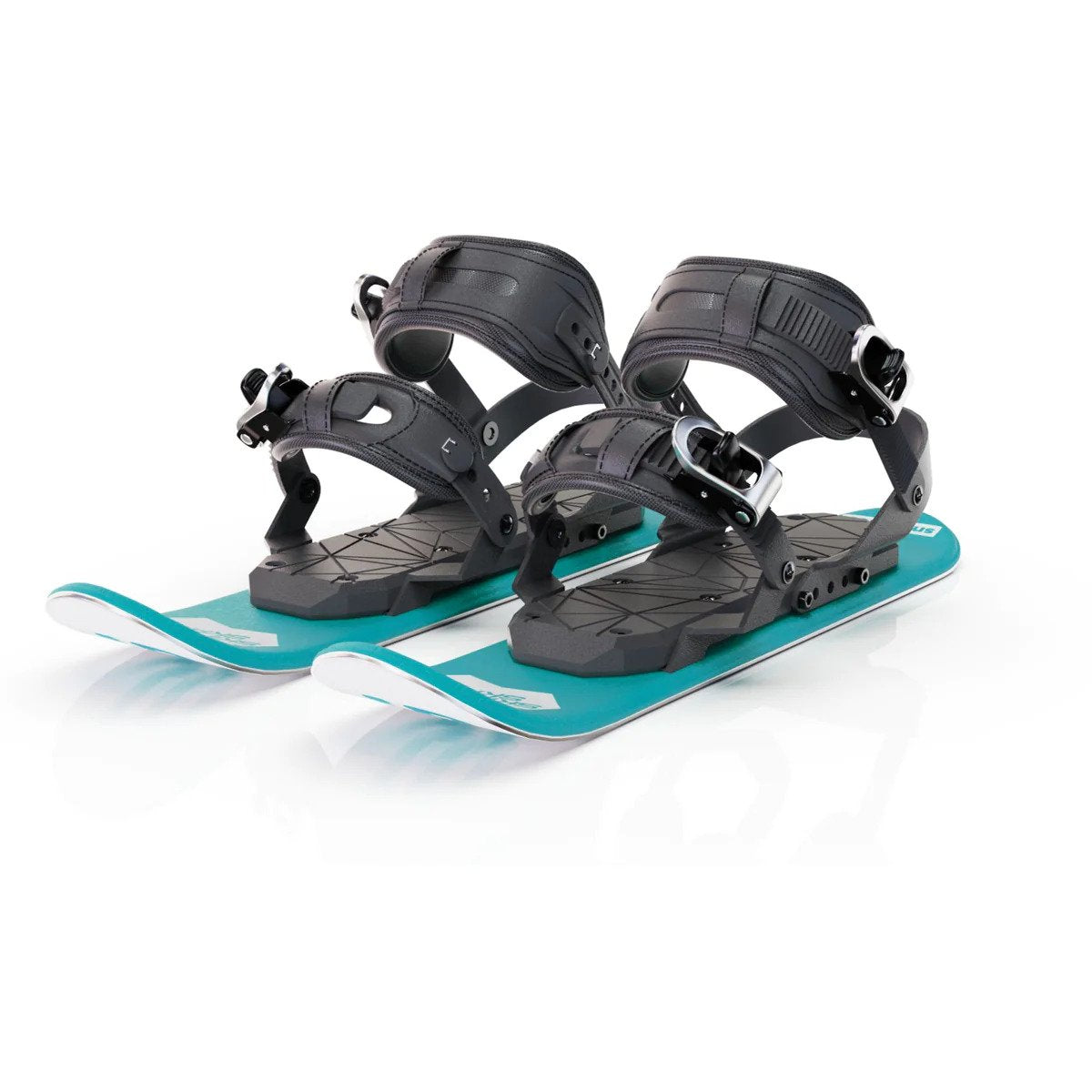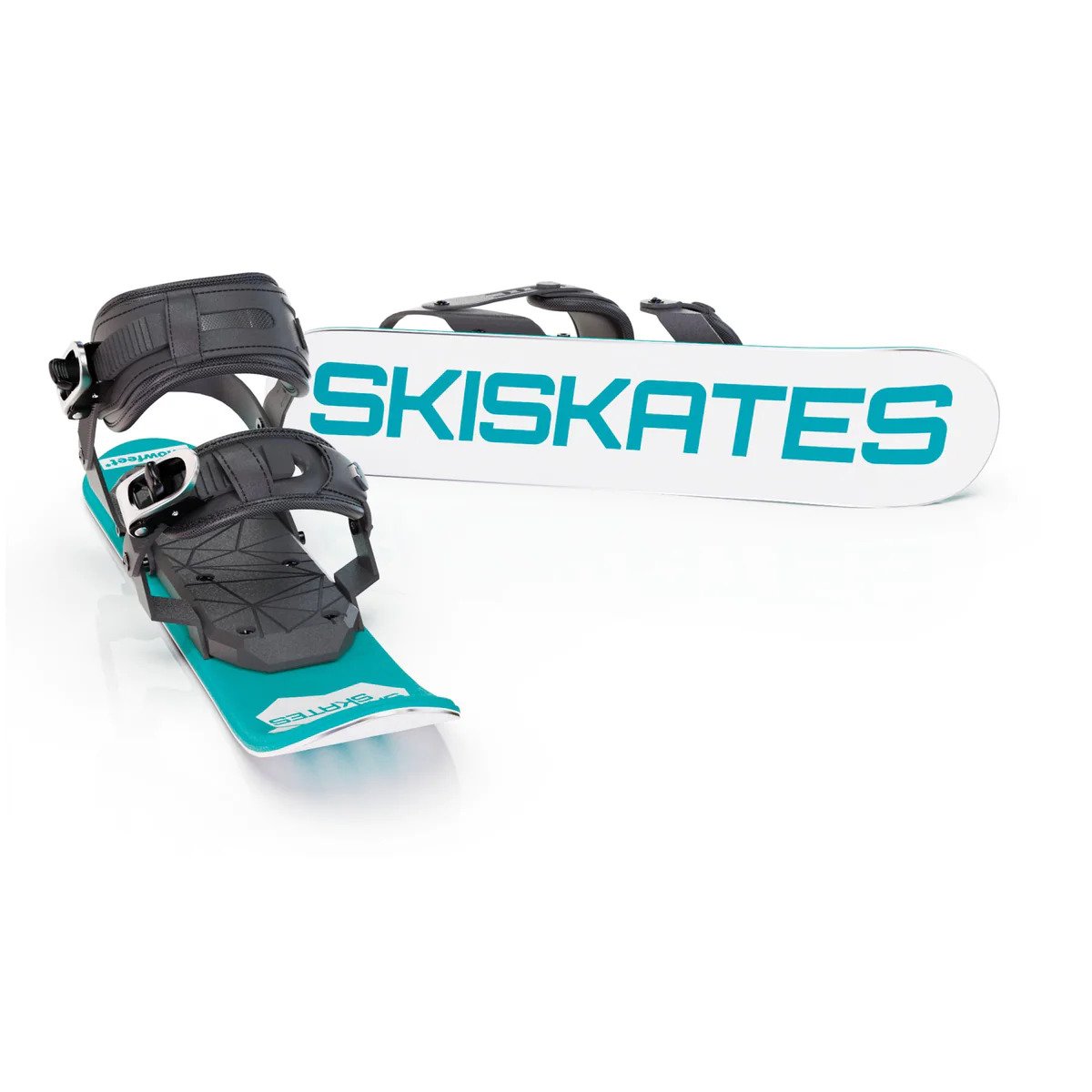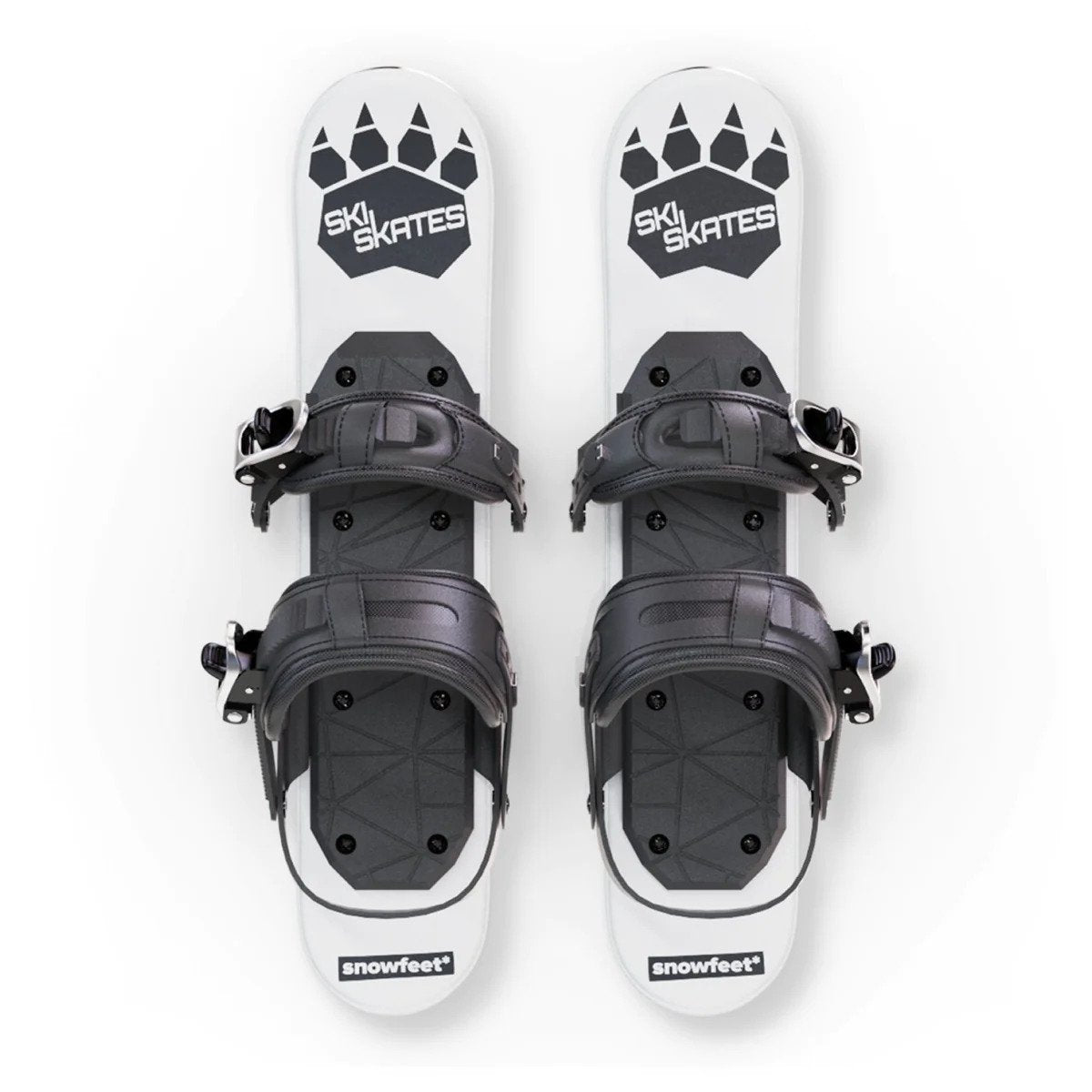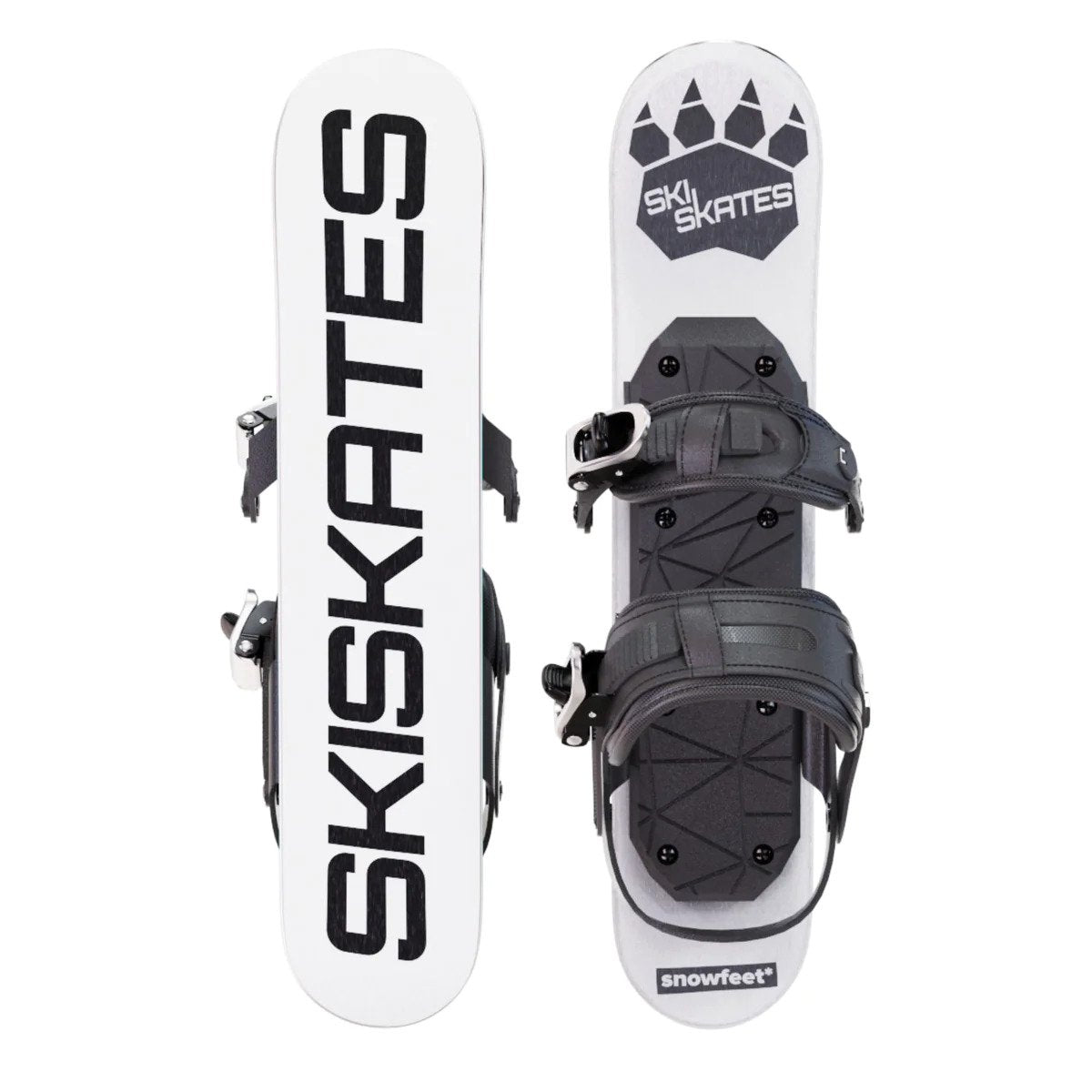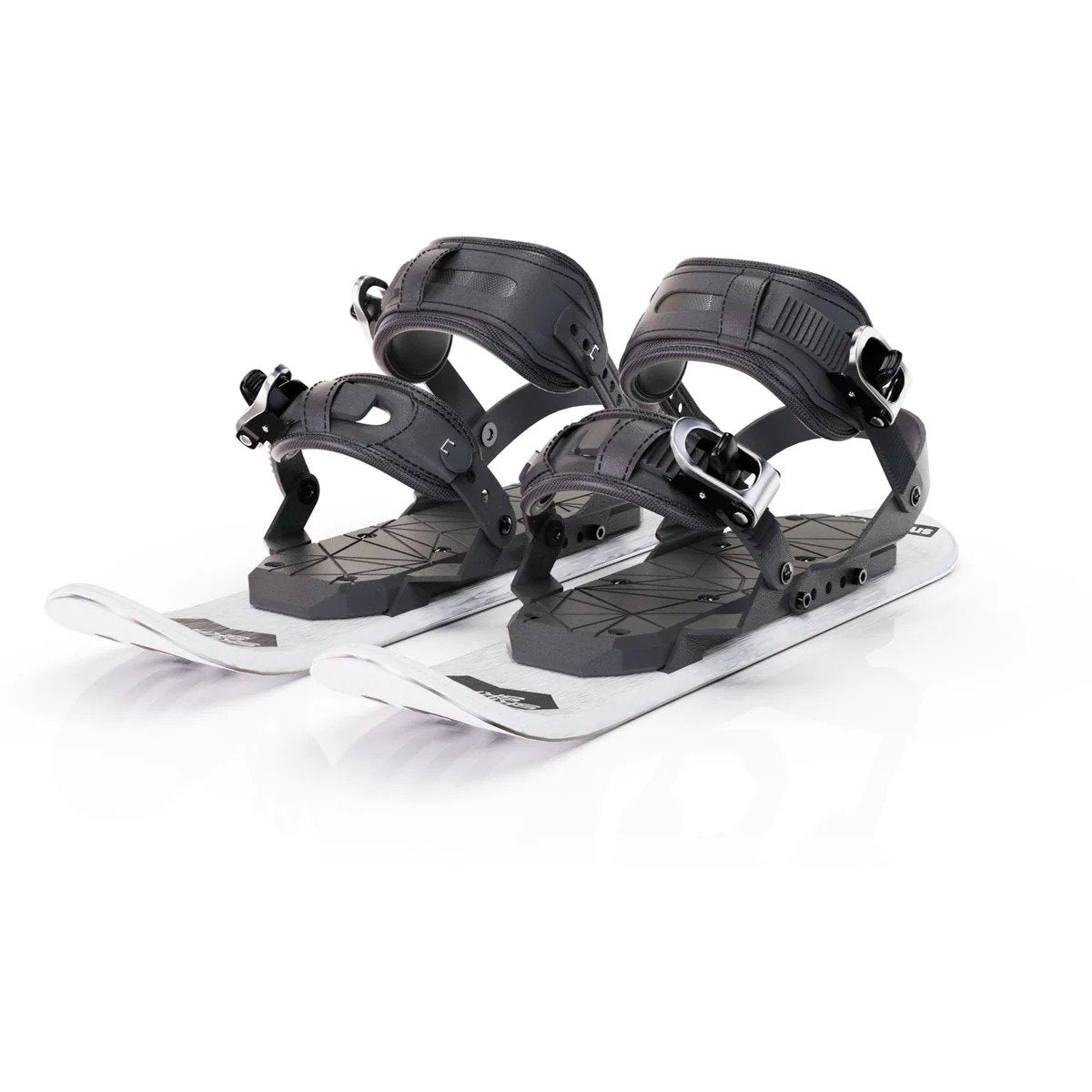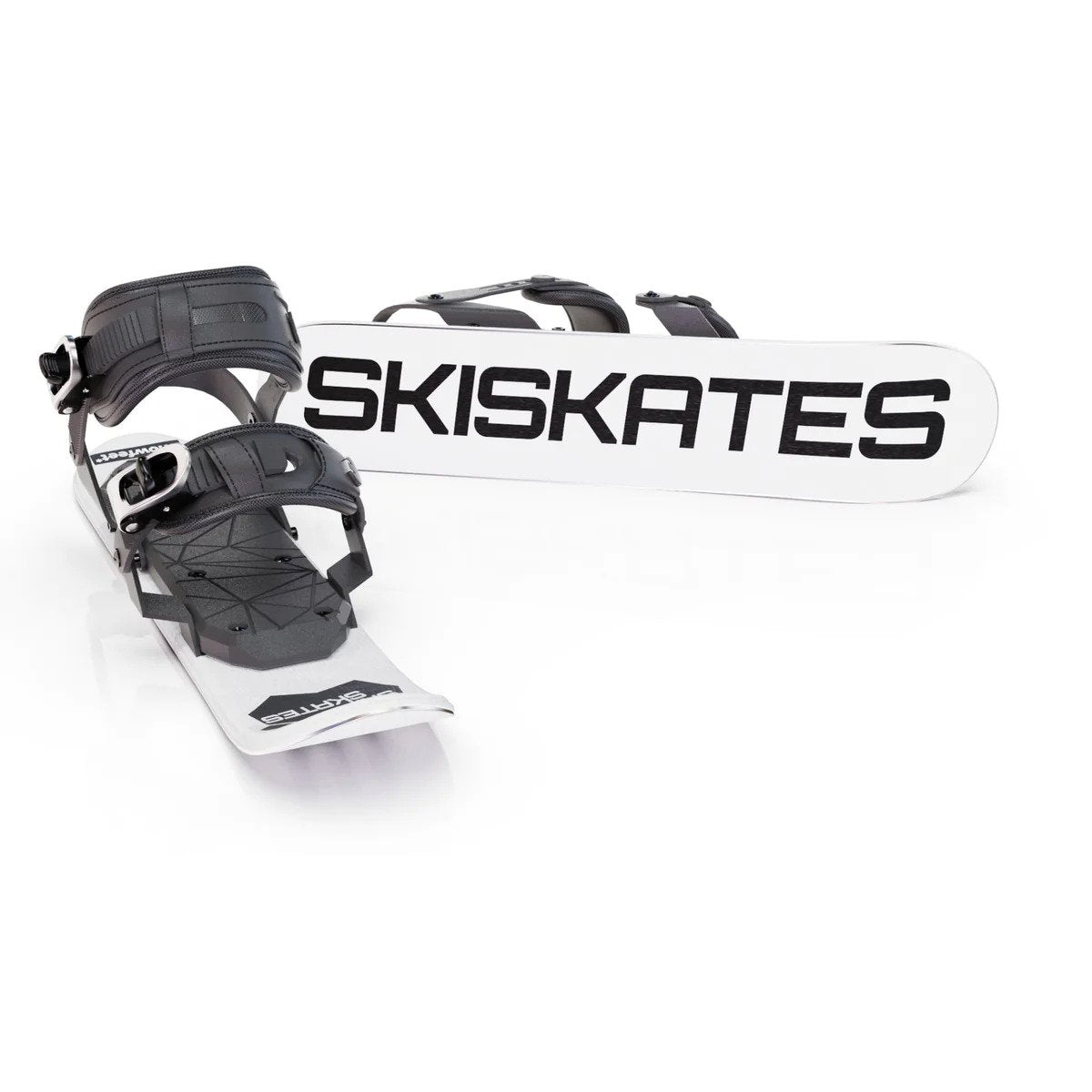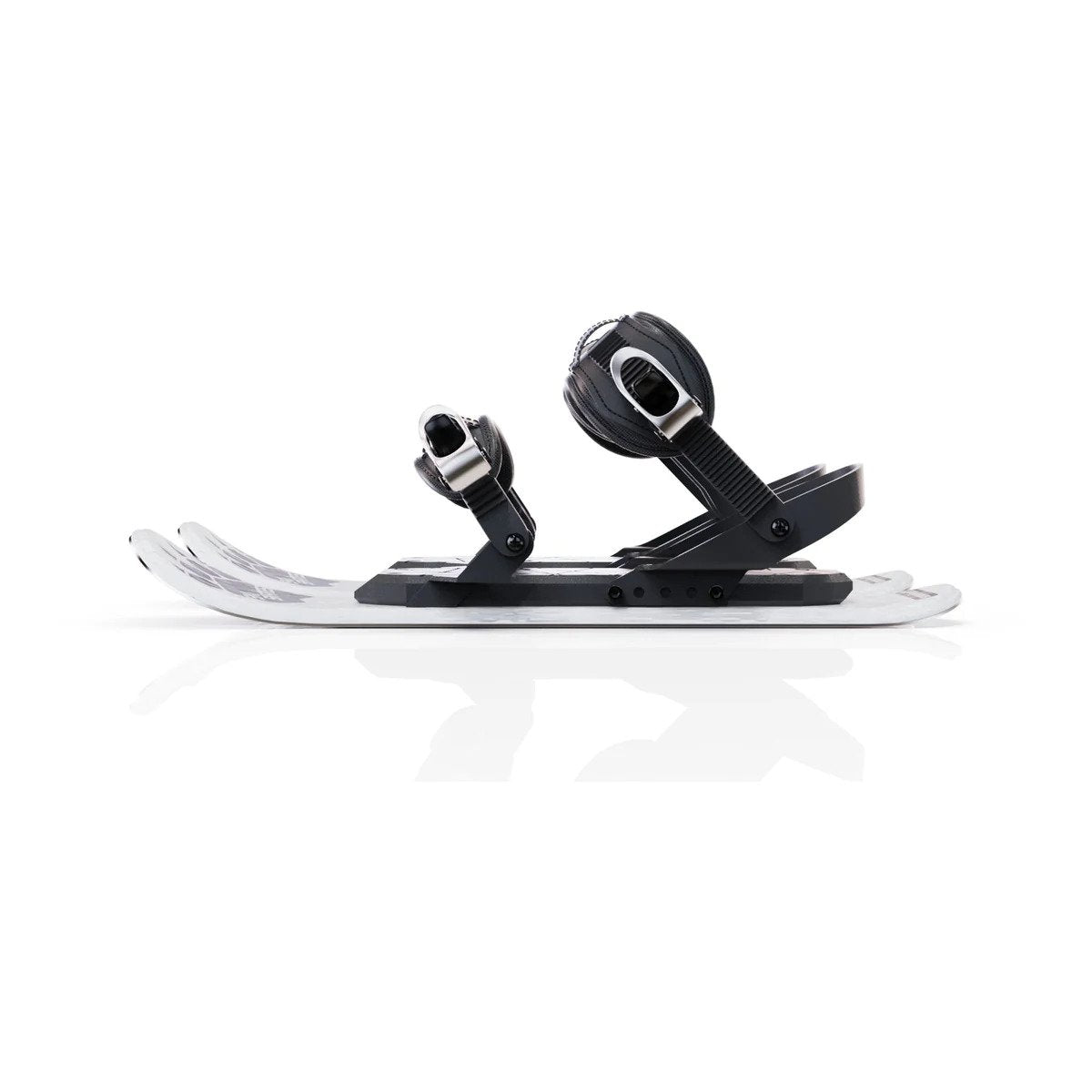 Skiskates | Ski Boots Model
---
SKATES FOR SKI SLOPES

 

- Use Skiskates with your ski boots or snowboard boots. World's shortest skis.
ONE SIZE FITS ALL

 

-

 

Easy to adjust, tool-free non-release bindings fit ski boots or snowboard boots of all sizes. I

ncludes safety leashes for secure attachment. Anti-slippery surface for perfect grip.

SKI BOOTS Size range: 36-49 EU / 4.5-14.5 US / 22,5-32,5 MP
SNOWBOARD BOOTS Size range:  38-49 EU / 6-14.5 US
LENGTH

 

- 44 cm / 17 inch
MADE IN EUROPE

 

- 

To ensure the highest lasting quality, these skiboard short skis are handmade from sustainable wood in the mountains in the heart of Europe.

FIT INTO A BACKPACK 

- They are light and small and thus easy to carry around so you can take them anywhere

HIGH-QUALITY TECHNOLOGY - Cap construction + WoodCore. 

 

 

Easy Edge Control

SKI ANYWHERE

 

-

 

Best for downhill skiing on ski slopes and in snow parks,

 

and fantastic for all kinds of twists, jumps, and tricks. You can also use them off the slopes for downhill on hiking trails. 

R

ide anywhere you dare to go - they

 

let you access areas like narrow hiking trails you wouldn't be able to enjoy whilst wearing long skis.



EASY TO LEARN

 

- Very

 

short learning curve, very easy to use.



FUN + FREEDOM -

 Skiskates

 can somehow always bring up the kid in you. Great for both adults and kids. These short snowblades are super fun for riding backwards, spinning, jumping and all kinds of tricks you can do in snow parks and on the slopes. Long enough to ski, short enough to skate.


#Mini Ski Skates for Snow #Short Skis #Snowshoe Ski #Skiing Shoes #Skiskates #Snow Skiing #Lil Ski #Skate Skiing #The Short Skiboard #Snowblades #Bigfoot #Inline #Roller #Ice Skates for Snow #Snowskates
Free + Fast Shipping. Estimated delivery time is 3 business days.
1. What about shoe size?
One size fits all, so don't worry. However, we recommend Skiskates for shoes of size:  36-49 EU / 4.5-14.5 US / 22,5-32,5 MP (Snowboard boots version) and 37-49 EU / 5-14.5 US (Ski boots version).

Adjustable bindings let you attach Skiskates to any Snowboard/Ski boots. If you want to use Skiskates with small size boots, select a different hole on the strap and adjust the bindings using a screwdriver. If you use large snowboard boots, you can replace the original front toe straps with extra straps. For people with small shoe size, we generally recommend using snowboard boots to make sure Skiskates fit perfectly, although it's not necessary. To avoid hassle on the slopes, take your time and adjust the bindings at the comfort of your home, using a screwdriver and a boots you are going to wear with Skiskates.

2. What shoes should I use?
Use any ski or snowboard boots. We recommend quality boots that fix your ankle firmly. 
Snowboard boots seem to be the best for ski slopes, but if you take Snowfeet on a hike or just to have fun on a ski slope or sledding hill, winter shoes are the most practical choice. For people with small shoe size, we generally recommend using snowboard boots to make sure Snowfeet fit perfectly, although it's not necessary.


3. Is it hard to learn?
Not really, it is actually pretty easy. It is as hard as learning to ski or skate. 

In fact, many people find it easier. However it takes some time and you will definitely fall now and then, but that's part of the fun. Have you ever seen people ice-skating for the first time? That's what I'm talking about. You have to keep the front-back balance, so it feels very natural to those who play ice hockey, ice skate, or even use inline skates. You are able to move freely as opposed to wearing heavy clunky skis. Falling is generally much safer than falling with skis or snowboard. Most importantly don't forget that learning is effortless if you enjoy the ride.


4. How do you stop?
You can stop the same way that you stop with your skis or skates. This is also called a hockey stop.

Because of their size and weight, it might not be as easy to stop with Snowfeet as it is with regular skis. However, it's not really difficult either. Make sure you distribute your weight evenly over both of your Snowfeet to make you stop easier and slower. Additionally, you can also slow down using a heel brake.


5. Where to use?
Use them for downhill on ski slopes, in snowparks, on hiking trails, or just have fun on your local sledding hill. 

Snowfeet are best on groomed snow. Avoid extremely steep slopes and deep powder. Because Snowfeet are so small, they let you access areas like narrow hiking trails, that you wouldn't be able to access whilst wearing skis. And because they fit into a backpack, you can take them pretty much anywhere.


6. Do all ski resorts allow the use of Skiskates on their slopes?
Most of the ski resorts allow this kind of "short skis" on their slopes, but not all of them. 
Our experience is that if you act as if you were skiing with your traditional skis, no one will bother you. And if that happens anyway, argue that Snowfeet are safe and the base of Snowfeet is made of the exact same metal ski edges as all the other skis, which is the most common requirement of ski resorts. And don't forget the great thing about Snowfeet is that you can always use them in so many other places, like hiking trails and sledding hills.


7. Where can I buy Skiskates?
The best place on Earth to buy Snowfeet is this website :) The shipping is relatively affordable and fast. 
We ship literally anywhere with the exception of PO BOXES. Or you can order them directly from us on Amazon. Just make sure to avoid counterfeits on the internet, they're not only illegal, but you would regret paying for a cheap knock-off that breaks during your second ride. Some of them only take your money and never deliver the counterfeit. 

8. How much is shipping and what's the shipping time?
Shipping is relatively affordable and fast. The price depends on the country you are from and usually it's around $9. The shipping time is usually around 4 business days, but it could be up to 8 business days. We always try to deliver your package as fast as possible. Just go to the checkout, fill out your shipping address and you'll see the shipping information.

9. Can I use them in powder?
Snowfeet are best on groomed snow. You can use Snowfeet on powder that is not thicker than +/- 10 cm (4 in). They are great on ski slopes, snow parks, sliding hills, or hiking trails, just not in deep powder. By the way, most skis are not suited for deep powder snow either. Additionally, try to avoid extremely steep slopes and ungroomed terrain full of bumps and holes.

10. Should I use wax?
Of course, we recommend waxing the base regularly to make Snowfeet even faster and prevent snow from sticking to the base. While you are on a ski trip, wax the base every day.


11. What is your return policy?
We give you a 30 Day Money Back Guarantee because we believe in our product. Make sure that the product is unused and in the original state.


12. For media - do we have permission to use your content?
Sure, you have our permission to use all of our content to create articles or videos about Snowfeet as long as it's not harming us in any way. Just make sure to add a link to our website so that your audience can learn more about Snowfeet and buy them if they want to. Feel free to contact us for an interview, more information or content.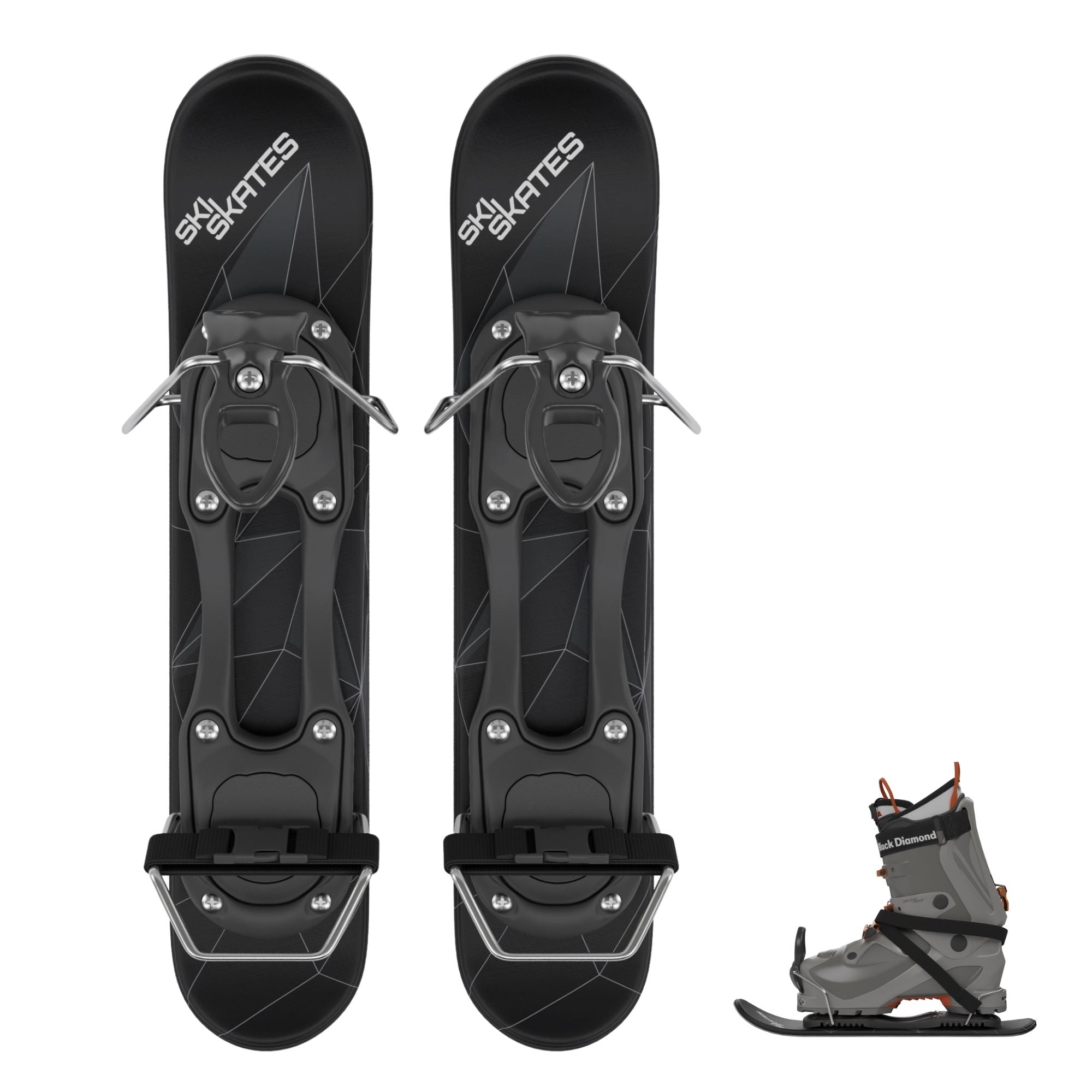 This product is rated 5.0 of 5.0 stars.
It has received 37 reviews.
skiskates ski boots model
Hockey players and ice skaters enjoy and find it simple to wear ski skates. I absolutely loved it and would encourage everyone to do the same.
Awesome
I am an inline skater, So when I 1st heard about these I was intrigued. I've already got a pair of the basic snow feet, Loved them had a ball. And now I'm gonna go ahead and purchase a pair of the ski skates."
Awesome
I have been skiing for over 20 years. I was hesitant to try these. They are easy to pick up and I will never go back to the original skis. My dad is in his 60s and he found them easy to pick up as well. Makes going to the hill easy as I am not lugging around giant skis. I was also consistently asked "What are those? Those are cool." while on the hills. Highly recommend!
What a blast!
Just took the snow feet out for the first time today, and had a blast. I'm a 56 year old woman who loves to ski, but I've been looking for a way to avoid uncomfortable ski boots. Tried snowboarding for a day, and I was a disaster. But the snow feet rocked. Took me a while to figure out slowing down and stopping, but once I got my stance down and learned to use my heel to control speed, I was able to easily do spins, ski backwards, etc. What a huge amount of fun for such a great price and all in a comfortable pair of snow board boots. Can't wait to take em to the terrain park tomorrow.
Fun!
Ski skates are well made, easy to use and fun.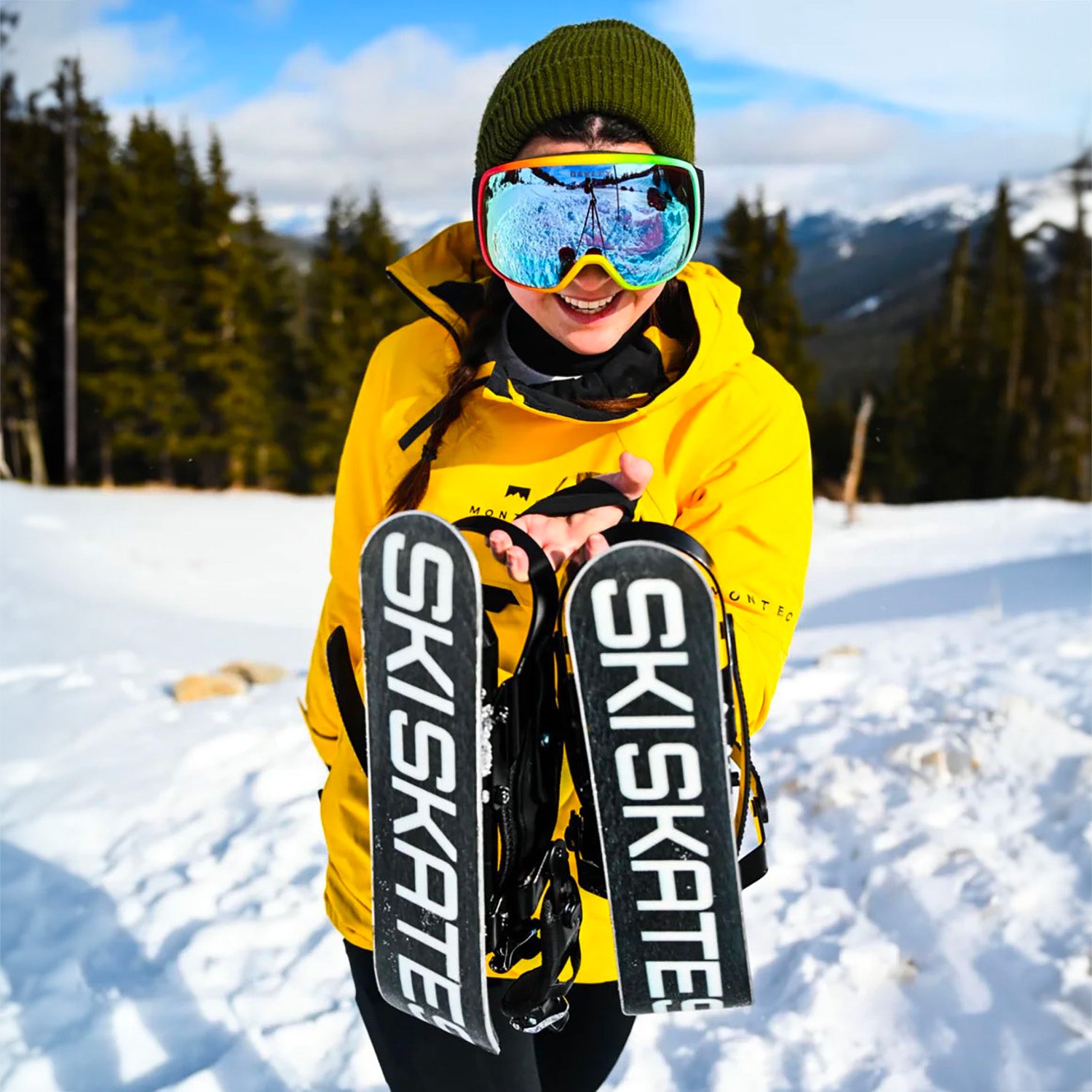 NEW BOOMING WINTER SPORT
Skates for ski slopes
Long enough to ski, yet short enough to skate. Basically ice skates for ski slopes.
Skiskates are super fun for downhill skiing, riding backwards, spinning, jumping and all kinds of tricks in snow parks and on the slopes.
Revolutionary design
Skiskates are hand made in Europe, and use the same construction as skis. 
"In my opinion, Skiskates is the best product for slopes we developed so far. I love how easy they are to ski and skate and how many different kinds of tricks I can perform without much effort and almost no restrictions." Zbyněk - Snowfeet* founder
High-quality Construction
Skiskates are made of certified sustainable wood core with cap construction, steel edges, sintered base, protective topsheet, and reinforcing layers.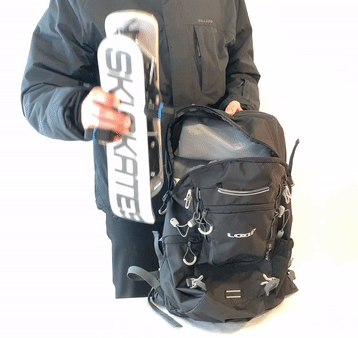 The First Skis That Fit Into a Backpack
The length is 44 cm (17.3 in), so Skiskates are a bit longer than Snowfeet, but still short and light enough to be carried in a backpack, so you can take them anywhere.
Choose from 2 Models
Skiskates are available with adjustable tool-free snowboard or ski bindings, that include safety leashes for secure attachment and anti-slippery surface for perfect grip.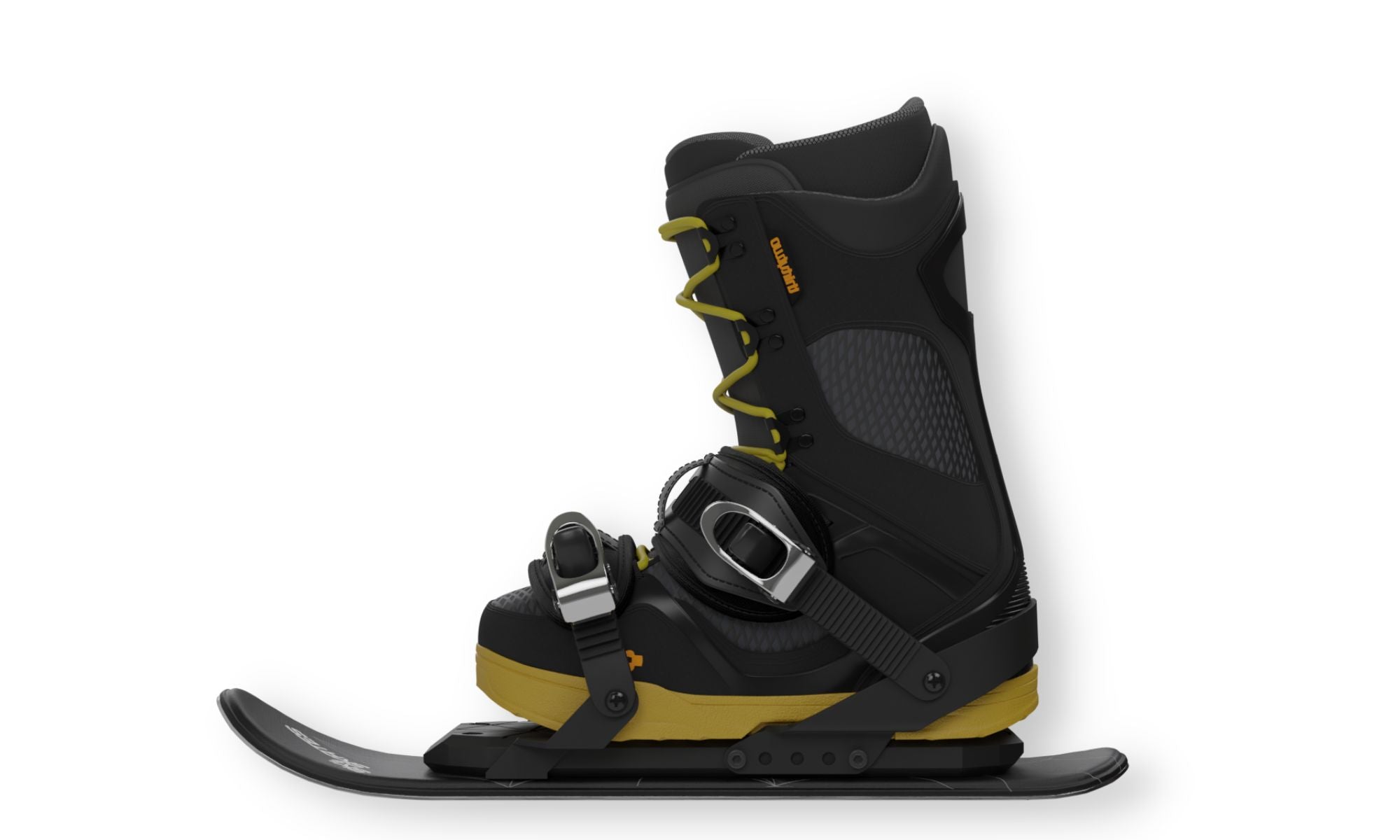 SNOWBOARD BOOTS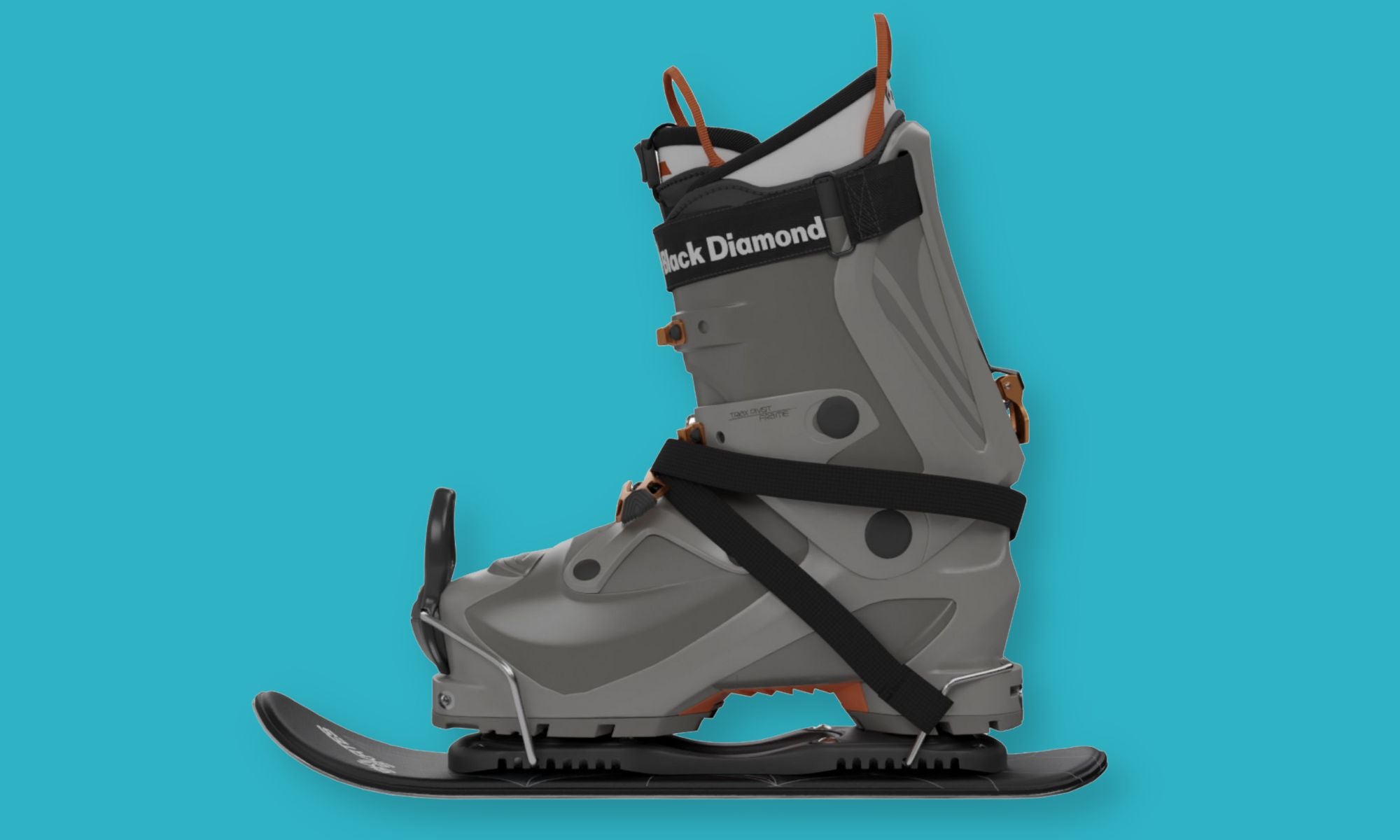 SKI BOOTS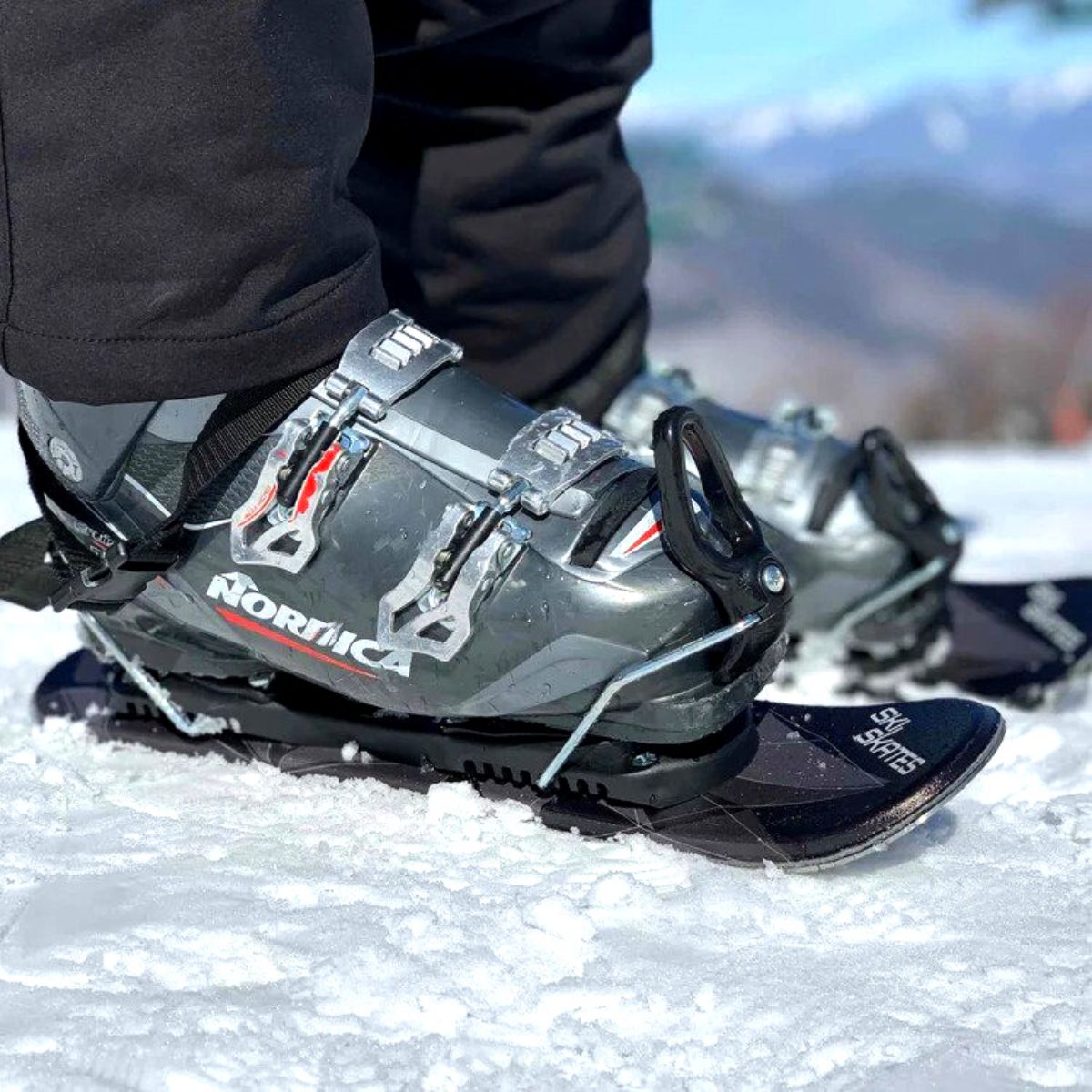 One size fits all
Size range: 36-49 EU / 4.5-14.5 US / (22,5-32,5 MP/Ski boot size)

They attach right to your ski boots. Simply adjust the ski bindings to fit your exact boot size.
Skier or snowboarder?
Skiskates come in 2 models